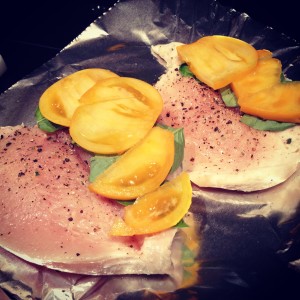 Everyone needs a few of those dishes that can be thrown together and are sure to please. For me, that's baked chicken. It's so easy to take a few chicken breasts, spastically cover them in dried herbs and spices, wrap them in aluminum foil and throw it in a pre-heated oven until they reach an internal temperature of 165 degrees. This recipe takes it one step further with a little trick, searing. When you sear the chicken, it locks in the flavor, keeps the chicken most, and  creates a delicious crispy and pretty coating!
Apologies to all of you for not having a better picture of the final product, I got hungry and broke my OWN rule of taking a picture first! I'll update the post next time I make this dish and have a better "finished product" picture for you!
Baked Chicken with Tomatoes and Basil
Ingredients
One chicken breast per guest
Heirloom tomatoes (Or Roma tomatoes will work)
Optional-one slice of cheese per guest (Fontina or Mozzarella)
Fresh Basil
Minced Garlic
Cracked Pepper and salt
Parchment Paper and Baking sheet
Frying pan and oil to sear chicken
Directions
1. Wash and dry the basil. Wash the tomatoes and thinly slice them. Pre-heat the oven to 450 degrees. Cut individual sized pieces of parchment paper or aluminum foil to bake the chicken on. Since the chicken has natural juices, you'll need to think about how you're cooking the chicken. If you're cooking it alone (no other veggies on the pan in the oven) a parchment paper is just fine. But, if you're making other veggies at the same time as I often do, I find it easier to use aluminum foil so I can curl up the sides and contain the chicken juices so that it doesn't touch the other veggies.
2. Wash the chicken breasts off, and pat them dry. Lay out chicken on a cutting board and "butterfly" it- which means slicing the chicken lengthwise, but don't cut it enough to separate the two sides. Pre-heat a pan on the stove and cover with cooking spray or some EVOO (Extra Virgin Olive Oil).
3. Crack fresh pepper over the surface of the chicken. On one side of the chicken, that will be the bottom side, lay the washed basil down, followed by the tomato. (If you want to get really fancy, you can sauté some spinach and garlic and include it in this step). If you're using cheese, lay it in between the basil and the tomato. Close the top side of the chicken over the bottom side, making sure that the tomato and basil don't pop out. You can secure them with a tooth pick if needed.
4. Carefully transfer the closed chicken breasts to the pre-heated pan and sear each side until golden brown. I use a wide spatula for this and you have to be careful when turning the chicken breast over so that none of the tomato or basil fall out. When they are seared on both sides, transfer the chicken to the individual pieces of parchment or aluminum foil and secure the openings with a toothpick if they're still trying to let the tomatoes and basil fall out.
5. Place the chicken on the baking sheet and bake for  for 25-35 minutes or until meat thermometer reads 165 degrees for internal temperature. 
6. Remove the chicken from the oven and serve! I usually like to serve with some toasted quinoa, blasted broccoli, or yam fries.