We discovered Elote on a recent trip to Arizona. Since our scheduled flight to thaw out occurred during this years snow-pocalypse our flight was canceled! How DEVASTATING when you're at the airport, suitcase packed with shorts and bathers while your body is clad in thermal long underwear and a ski jacket. Snow can't hold us down so we rescheduled a flight for mid April and thankfully the snow was nowhere to be  seen as we taxied off the runway, bound for warmer weather and no work e-mail! Time to THAW OUT!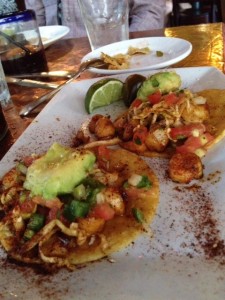 Thanks to some last-minute planning on our wonderful hosts part, a trip to Sedona and the Grand Canyon was in order so last-minute overnight bags were packed and off we went! We stayed in Sedona and upon checking in, decided that Mexican food was the general "tasted up" status of our group so we asked the front desk concierge and immediately she said that we HAD to go to Elote. "You'll want to get there right when they open at 5pm otherwise you'll be in an hour plus line to get in. Regardless, I promise you it's worth it! The food is worth waiting for!!". She didn't need to twist our arm any further, Elote it was! Thinking that we were going to beat a line, we tootled down and found parking and headed to the entrance that had.. gasp… a line of at LEAST 30-40 people in it! But… I… HOW!? It's 15 to 5pm!!Thankfully they open the bar and efficiently shuffle you in to get drinks to enjoy while waiting. We started with a round of a few Margaritas and house Sangria's (the house red Sangria was truly AMAZING!) and posted up in line. By the time we got to the front and got our name on the list, we were on the second round and headed to the side shaded patio that they have set aside for people waiting. Second round came and our table was ready!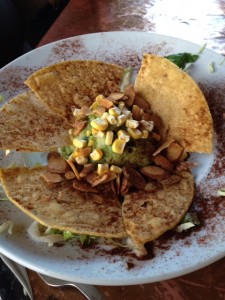 To start we ordered two table appetizers: the Guacamole and of course the namesake dish Elote, which is made of fire roasted corn and spicy mayo and garnished with lime and Cotija cheese. Both dishes were absolutely stunning!! I grew up in California with an avocado tree in my back yard so avocado and guacamole dishes are somewhat a specialty of my family, and this truly earned my seal of approval!! The Elote was SUCH a wondrfully charred and creamy dish… I regret that I have only one stomach and had actually ordered dinner. The entrée's were equally as picturesque and tasted wonderful! The table ordered (therefore I was able to sample) the Carnitas, the Lamb Adobo AND enjoy my own absolutely delicious entrée of seafood scallop tacos. They served a black bean puree on the side and it completely changed how I will eat and cook black beans forever more!
Since it was a birthday trip, I was surprised by a trip to our table by the wonderful Chef, Jeff Smedstad, who signed my personal copy of the cookbook and took a picture at the table! This recipe for Elote, the namesake of the restaurant, was THANKFULLY included in the recipe book and we can't WAIT to cook it up! Pictures to follow once we cook it up ourselves!
Elote
Serves 4-6
6 ears of corn, husks intact
1 c. mayonnaise
1 tbsp. Cholula hot sauce
2 tbsp. fresh lime juice
1 tsp kosher salt
1 tsp. fresh ground pepper
1 tsp sugar
1/4 c chicken stock
1/4 c cotija cheese, ground or crumbled for garnish
2 tbsp chopped cilantro for garnish
pure-ground red chile to taste for garnish
crispy tortillas for scooping
Over a medium-hot grill, roast the corn until the husks are well charred, about 5 minutes turning occasionally so as not to burn the side contacting the direct heat
Set the roasted ears aside until cool enough to handle, then shuck them and cut the kernels off the cobs
Mix the mayo, hot sauce, lime juice, salt and pepper, sugar and chicken stock in a saute pan over medium heat
Add the corn kernels and cook until corn is warmed
Pour into a bowl and garnish with cheese, cilantro, and ground chile
Enjoy immediately with crispy tortillas