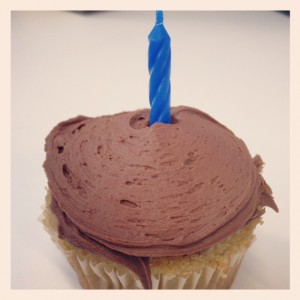 Birthdays are wonderful and they are especially for someone who LOVES to bake! Bakers invent holidays just for the opportunity to whip up some delicious treat! Growing up I was given the nickname "Martha Stewart" because I was the chick who showed up for every holiday with the corresponding cookie/treat. Gingerbread for Christmas, heart-shaped shortbread with pink and red frosting at for Valentines Day, Shamrock cookies and green frosting for St. Patty's, Easter treats, May Day cookies, July 4th something-or-rather,  Halloween trick or treat bags… Thanksgiving…Birthday's Cupcakes…Picnic Pies and never white frosting after Labor Day!
Well, that was "back in the day" (am I even old enough to say that!?) before food allergies became so prevalent. Now, a baker must be VERY aware of those that might not be able to join in the sugary delicious consumption of a well-baked treat. Well, those bakers that want friends do!
It was a co-workers birthday a few weeks back and I immediately went into "Martha Mode"… "IF cupcakes just happened to show up on your desk what flavor would they be?" I inquired. "Not made by me" was the response…every bakers dream or dread! That is either the field of dreams to explore or a stress sentence of deciding what kind of baked good says what about you. Quickly I got over my female phobias (it's true… women DO think of things like this!) and decided that I'd just make cupcakes that I'd be happy to take home if no one ate them.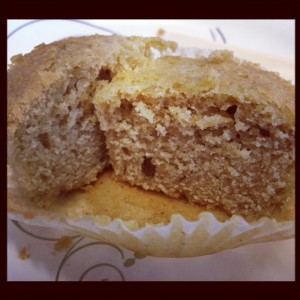 Being mindful of both a gluten AND a dairy intolerance I quickly realized that I didn't have a go-to cupcake recipe to suffice. So I did what any good, sound, logical baking blogger did and headed to Google! This recipe is from Vegan Cupcakes Take Over the World  and they were a HIT!!!! Not just… hey this doesn't taste like a rotten breaded sardine but actually got compliments of "These are AMAZING!" Even the birthday boy was skeptical when I told him they were gluten-free (omitted the dairy free part…have to ease them into the idea you know) said they were, and I do directly quote, "DELICIOUS! I was worried when you said gluten-free but those are REALLY GOOOOOOOD!
I LIVE BY Bob's Red Mill Gluten-Free Flour for my gluten-free recipes so with that, ladies and gentlemen, I give you the ultimate go-to birthday baked good! It's chewy and moist with the correct density and texture of a "real" cupcake while incorporating various intolerance's. It's pretty much amazing! I also love the other book from these authors and have it on the cookbook shelf, Vegan Cookies Invade Your Cookie Jar.
Culinate, who also posted this recipe suggested  Vegan Fluffy Buttercream Frosting or Not-Too-Sweet Blueberry Mousse for a topping but since I was short on time I just picked up a ready-made can from the grocery store and let people frost themselves. Okay…short on time AND lazy.
Golden Vanilla Cupcakes
Yield: 12 cupcakes
Ingredients
1 c. Soy Milk
1 tsp. apple cider vinegar
1 1/4 c. Bob's Red Mill Gluten-Free Flour
2 tbsp. cornstarch
3/4 tsp. baking powder
1/2 tsp. baking soda
1/2 tsp salt
1/3 c. canola oil
3/4 c. sugar
2 1/4 tsp vanilla extract
Directions
 Preheat oven to 350 degrees. Line muffin pan with cupcake liners.
Whisk the soy milk and vinegar in a measuring cup and set aside for a 4-5 minutes to get good and curdled.
Beat together the soy milk mixture, oil, sugar, vanilla, and vanilla in a large bowl.
Sift in the flour, cornstarch, baking powder, baking soda, and salt, and mix until no large lumps remain.
Fill cupcake liners two-thirds of the way and bake for 20 to 22 minutes.
Transfer to a cooling rack, and let cool completely before frosting.