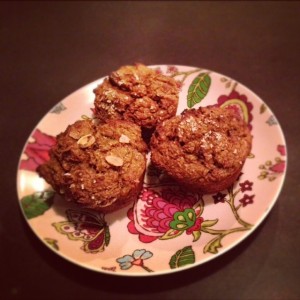 Who doesn't love muffins? Delicious, warming, hearty and the thing I love the most is the crunchy muffin top! On more than one occasion I've eaten the muffin top and left the rest, usually because there isn't enough goodness throughout the rest of the muffin to keep my interest. I might have muffin ADD. That's one of the reasons I LOVE making muffins at home, not only does the whole house smell amazing, but I love baking and it's fun to make them exactly how I want and they are a wonderful easy breakfast option!
Wednesday night I roasted my own pumpkin (you can read the post here) in the effort to prepare the delicious pumpkin for baking. Pumpkin muffins have been on my mind for WEEKS! Well, last night was FINALLY the night! We had dinner plans with friends so it was the perfect time to make them and then LEAVE them to cool while we went out. This was my tricky methodology to keep myself from eating one… two …tasting my wonderful pumpkin creation!
I…LOVE…BAKING!! Fresh roasted pumpkin!? Check! Throw a few raisins and walnuts in there… let's see what other spices can I throw in this bowl? Cloves are one of my favorite holiday spices because it always remind me of gingerbread, which is tied for first favorite holiday flavor right along with Pumpkin and Gingersnap.
The first words as he walked in the door were: "It smells like CHRISTMAS in here!" Holiday baking is one of my favorite hobbies of the entire year, and that declaration my foodie friends  made my little baking heart well up with joy! Those muffins smelled as amazing when they were cooking as they did this morning for breakfast! Now, he's NOT a pumpkin fan so I figured I'd be eating a dozen by myself (Oh darn), but dolled out some high compliments this morning as we both enjoyed them for breakfast. I reduced the sugar from the original recipe and they were still the perfect mix between spiced, pumpkin and sweet flavors and hearty enough to be satisfied with one muffin and some yogurt. It was the perfect fall breakfast!  The garbanzo flour and Greek yogurt gave an extra protein punch which I appreciate in a muffin.  I can't WAIT to get home and eat another one two wonderful pumpkin creation!

Protein Pumpkin Bran Muffins with Walnuts & Raisins
Yield: 12 muffins
Adapted from Green Lite Bites Recipe
1 ½ c. Garbanzo Bean Flour (any flour will do, I used garbanzo for more protein)
1 tsp. baking soda
1 tsp. baking powder
¼ tsp. salt
1 tbsp. ground cinnamon
½ tsp. ground ginger
½ tsp. ground cloves
1 tsp. fresh grated nutmeg (you can also use ground if you have/prefer)
2 cups of fresh roasted pumpkin (or 1 15oz can of pumpkin)
2 tbsp. molasses
1 tbsp. honey
1 egg
2 egg whites
¼ c. unsweetened applesauce
½ c. vanilla Greek yogurt (any yogurt will do, I used Greek for more protein)
Raisins and crushed walnuts to taste
¾ cup Wheat Bran
Preheat the oven to 400 degrees and grease your muffin tin or line with festive muffin cups
Mix the flour, baking soda, baking powder, salt, cinnamon, ginger, cloves and nutmeg in a medium bowl. The recipe called for double sifting, but since I don't have a sifter and I'm way too lazy I just too my pastry blender (or you can use a whisk) and added a little fluffing to it!
In another large bowl, add the pumpkin, molasses, honey, egg, egg whites, applesauce and yogurt. Beat until all ingredients are mixed well.
Add the wheat bran to the flour mixture and mix.
Pour the flour/bran mixture into the pumpkin mixture and combine until just moistened. Don't over mix. Add raisins and walnuts if you like them and pour into muffin cups. Don't worry, they'll be full and the pan will feel a bit heavy but they bake up with nice muffin tops! Original recipe called for sprinkling with oats, which was a lovely touch, but I opted for a light dusting of the wheat bran since it was handy and after trying to shell two of the freshly roasted pumpkin seeds I got way too lazy! Next time I'll for SURE dust the top with shelled pumpkin seeds!
Bake for 20 minutes in pre-heated oven. Cook on wire rack and enjoy!