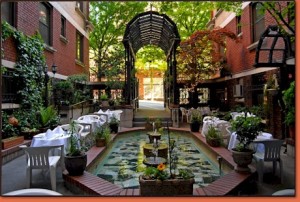 La Fontana is a wonderful little oasis located off Blanchard Street in Belltown. As you walk under the iron pergola you're instantly transported to another place as you enter the greenery filled courtyard, complete with a bubbling fountain (thus the restaurant namesake). From the al fresco tables proudly supporting the crisp white linens, evenly spaced to allow for a cozy and secluded feel, to the attentive and authentic service, every bit of this experience felt like a vacation. I would have said "screamed vacation" but it's such a quiet and respectable little courtyard that screaming seems quite out of nature for this little gem of an eatery.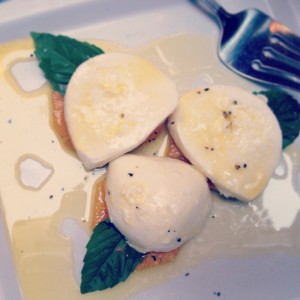 The menu features home-style Sicilian fare, complete with carefully selected wine and beer selection, which compliment the flavors, and complexity of each dish. (I can personally vouch for the house Chianti that was QUITE enjoyable!). The appetizer choice was basically made for us, who WOULDN'T choose the daily special of orange caprice, a variation which featured fresh sliced oranges instead of tomatoes. The hardest part was deciding on ONE entrée but that's the best part of about a table for two… two-entrée choices! After MUCH deliberation we settled on the Cannelloni di Pollo and the Pollo Marsala, which is, of course, Sicily's most famous dish as the menu stated.
We leisurely chatted and enjoyed the bubbling brook, as our food was prepared, and were thankful that it didn't immediately appear. The enjoyment and relaxation of that courtyard needed savoring, almost as much as the flour-less chocolate cake and cappuccino for dessert, but I'm getting ahead of myself. Out came our food and the large pounded-out Pollo Marsala chicken breast was perfectly covered in a delicious and surprisingly light Marsala wine and mushroom sauce accompanied by the cutest little fried potatoes and olive oil rubbed summer snap peas I've ever seen. The two homemade Cannelloni were expertly filled with a perfect blend of chicken, ricotta cheese and basil with what we could tell, was a fresh house made tomato sauce.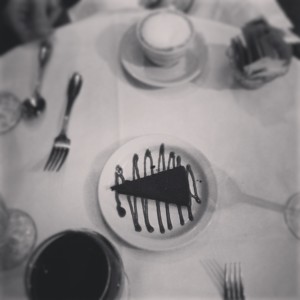 After we had fully enjoyed our entrees, our plates were expertly whisked away and replaced with the silver dessert tray, boasting such goodies as tiramisu, chocolate drizzled and powder sugar dusted dessert cannoli and flan. After one refusal, we called the waiter back over and promptly ordered a cappuccino and a slide of the flour-less chocolate cake drizzled with fresh raspberry sauce.
Since both of us can, and truly do enjoy, cooking at home, the bar is set reasonably high on what a good meal consist of. When the check came, we agreed this was a meal well spent. Wines and beers are under $10 per glass, and the entrees range from $17 – $30.