In our house there are two forms of "to do lists", there's a "his" and a "hers". "His" consist of various house chores and interior renovation tasks such as sanding, painting, scrubbing grout, fixing and rearranging various wires and boxes and electrical "this and that's".  Tasks on that list are actually being completed while I curl up in the corner, typing away on the dining room table which is against the living room wall with boxes to the right of me, boxes to the left of me, boxes in front of me… ten points and a big golds star to any of you that know that Little Rascals quote. We're in the middle of redecorating the little perch and I'm actually quite thankful to report that I have a very dashing handyman that LOVES this type of work. Or, at least enjoys it more than I do! He's been slaving away and I'll post before and after pictures once we have the new carpet in.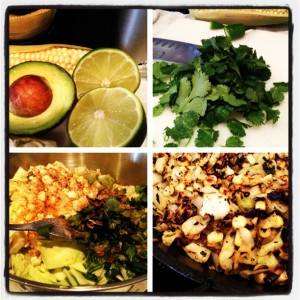 Let me proceed to the "her" version of the to do list: banana bread, morning muffins (which I made this weekend and posted here), blueberry muffins with crumbles on top, stir fry, fajita's… this is just a sample of the meals that are on my list. And I must say, to quote the great Ron Burgundy, "I'm not even mad." Settling up my part of the redecoration manual labor with some good homemade meals is quite fine with me! After brand new paint in the bedroom and a gorgeous new living room painted the perfect shade of meringue yellow which at the moment is shining brightly in the rare spring Seattle sunshine, my handyman deserved a good hearty meal. I decided to follow the coupon clipping and headed to Metropolitan Market to get some steak for our fajita's. Up to the counter I bounded, with WAY more than I went in for and happily presented my coupon with a sense of great accomplishment at a few dollars well saved, only to realize that I apparently can't read dates and the coupon wasn't good for another 3 days! We already had our hearts set on steak fajita's so I put back the second of the "buy-one-get-one-free" coupon that was no more, and juggled my groceries to the car.
As all wonderful recipes transpire, parts of this meal are NOT what I originally intended and I have to say that they actually turned out much better! I meant to marinate the meat, and didn't, yet it was more perfect that I could hope! About an hour before I was going to prep the meal I was still trying to think of a recipe enhancement. While taking a mental inventory of the fridge I stopped on the middle right shelf where 1 1/2 heads of green cabbage still lived as remnant from the post St. Patty's Day sale at the market. SLAW! I'd never in my life made slaw and wasn't even sure if it would go with steak fajita's but it was going to be made and tested to world, watch out! I have to say, the slaw turned out INCREDIBLE! So incredible, in fact, that I make a brand new batch when we enjoyed our next day leftovers. The key to this slaw is fresh ingredients, an entire Anaheim pepper for kick, fresh lime juice and the Creme de la Creme finishing touch is that I pan grilled it! That deep charred taste completed the entire meal. I'll never again eat another raw slaw… to the grill with that side!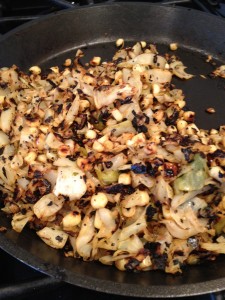 Grilled Southwest Cabbage "Slaw"

3 c. cabbage, chopped
1 ear corn, uncooked
1 medium Anaheim pepper, sliced and diced very thin with seeds
1 good handful cilantro, rinsed and chopped
1/2 Lime, juiced
1 spoon full minced garlic and juice
Cracked Salt & Pepper to taste
Cayenne Pepper to taste
In a large bowl, mixing all ingredients and set aside uncovered, to let the flavors mix (you can set this aside for however long you'd like which makes this a great prep ahead of time part of a meal, but let it set at least 20 minutes
Heat a non-stick pan over high heat and grill the cabbage until it's charred, turning every few minutes (approx. 10 minutes)