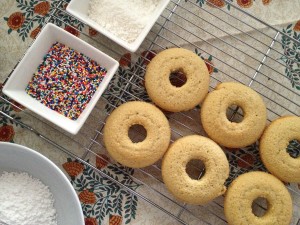 Everyone has a hankering for a donut from time to time. Yes, this includes the healthiest of people! Now, if you're silently saying, "Why no, I can resist a fluffy, melt in your mouth, little bit of heaven pastry goodness" then 1- you're either lying or crazy or 2- your just bitter because you're gluten- intolerant. Well, harbor bitterness NO longer my friend! We have a family member that is gluten intolerant and on his last trip to see us I had the itch to bake.On my recipe hunt, I found QUITE a few recipes for donuts, and once I got my drooling problem under control, created a Pinterest board to keep all my lovely donut finds in one place. But, as I started clicking through the recipes I found that many of them were fried, used gluten-filled flours, and called for  xanthan gum or other additives.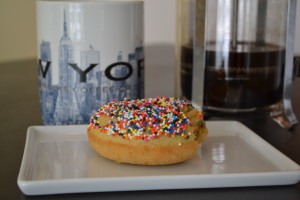 While I'm a FIRM believer that deserts should never be desecrated and demoted into the "light" or "non-fat" categories and should remain their butter or chocolate anchored selves, I do also believe it moderation. So, I set out to focus on the baked donut recipes and FINALLY found one that didn't call for xanthan gum or some other additive that I can't pronounce or state with confidence what exactly it is. The gal over at Vegan YumYum had a delicious recipe for mini-baked donuts which called for regular flour so I made a few alterations and gave it a shot! I also did my research on baked donuts, and decided to go with the affordable Norpro 6-Count Nonstick Donut Pan
 from Amazon and purchased a 4-pack of the Bob's Red Mill All-Purpose Gluten-Free Baking Flour
 as well. With a few toppings gathered and the ingredients for the glaze in hand, I was ready to BAKE my Vegan* gluten-free goodness! *In order to make these donuts vegan, use the egg replacer in the recipe instead of the egg.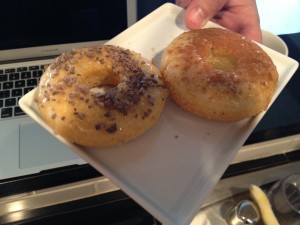 The donuts turned out to be a success, both men in the house had seconds and my gluten-loving one didn't complain about the taste or texture. They are not going to be a complete replacement for the real deal full butter and flour style of donuts, and if you prefer a good fried old fashioned donuts beware that this will not replace that hankering and you better go get one..or two immediately! The texture was a bit different but the taste, especially buy the time the various toppings and glaze were applied it all tasted like a delicious donut! I followed the glaze recipe on the same website, and used sprinkles, shaved chocolate, coconut and cinnamon as toppings! You can take a glance at all our delicious toppings below
What's your favorite donut topping?
Mini Baked Donuts
Recipe adapted from Vegan YumYum
Yield: Her recipe makes 20 mini-donuts but since I purchased the  large donut pan, the recipe wound up  yielding 10-12 donuts… I can't remember because we were chowing on the  first batch  while the second batch when in!!!
Dry Ingredients:
1 Cup Bob's Red Mill Gluten-Free Flour
1/2 Cup Organic Sugar
1 1/2 tsp Baking Powder
1/4 tsp Salt
1/4 tsp (scant) Nutmeg
1 tiny pinch or shake Cinnamon
Wet Ingredients:
1/2 Cup Soymilk
1/2 tsp Apple Cider Vinegar
1/2 tsp Pure Vanilla Extract
1 Egg (Or you can use Egg Replacer for 1 Egg)
4 Tbs Earth Balance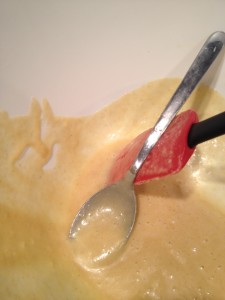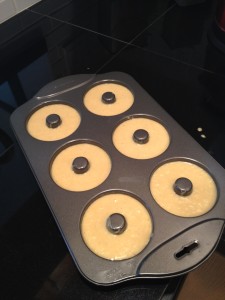 Preheat oven to 350º F. In a large bowl, combine dry ingredients with a whisk to mix thoroughly. Combine wet ingredients in a small sauce pan over medium low heat and mix until earth balance is melted. This mixture should NOT get too hot, you should be able to stick your finger in the mixture. It should feel slightly warm. Add wet to dry and mix until just combined. It should form a very soft dough. Using a tablespoon measure, scoop out dough into your un-greased nonstick donut pan. If you'd like "pretty" donuts, Smooth out the top of the dough with your fingers.
As you can see, the dough sits just below the rim. If you over fill, your donuts will come out looking like it has a little muffin top. Bake for 12 minutes. They should not be browned on top, but a tester will come out clean. Invert hot pan over a cutting board or cooling rack to release donuts. Allow to cool completely before decorating.
Glaze with Sprinkles

1/2 Cup Powdered Sugar (lump free!)
1 Tbs Soymilk
Bowl full of sprinkles (aprox. 1/3 cups
Whisk soy milk and powdered sugar together. Dip the "bottom" half of the donut (the side with the nicer shape) into the glaze, let some drip off, then dip glaze-side down into sprinkles. Transfer to a wire rack that has been set on top of some parchment paper. The excess glaze will drip through the rack onto the paper for easy cleaning later.