I fell in love with Flying Apron  bakery a bout 6 years ago when I was diagnosed with a dairy allergy. No dairy…means… no… BAKED GOODS!? What about my cookies, muffins, and scones!?  While lactose was the allergy, being a digestive tract allergy meant that gluten would quite possibly be an "irritant" for me even thought I wasn't necessarily allergic to it. "Oh Joy" … my first thoughts… and many of the subsequent thoughts afterward. This diagnoses came before food allergies were really becoming main stream and I must confess it was a very rough life adjustment for me, being miss baked goods lover, to find things that were both dairy-free and yet still tasteful. Flying Apron specializes in gluten-free, vegan baked goods, and breads as well as savory lunch items including savory veggie hand-pies, macaroni dishes, pizzas, soups, and salads to name a few. They rotate their menu to feature dishes that incorporate seasonal and local ingredients.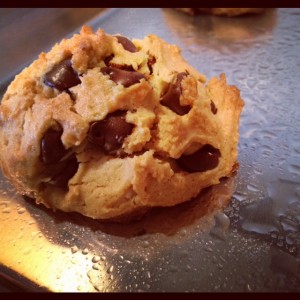 It was at their Fremont Cafe that I first had the realization that gluten-free and/or dairy-free baked goods didn't have sacrifice taste and make me feel like I was chewing on a soggy 10 day old strip of cardboard! Previously, adhering to food allergies meant an immediate departure from any sort of taste, texture or delightful food experience.  But when I first bit into a Flying Apron muffin, my food allergic life changed for the better. Their baked goods, breads, and savory items are really delicious and intensely palatable. Mind you, this review is coming from both the dairy-free AND the "MORE BUTTER PLEASE" review voice of this household. I've got him hooked on both the  Flying Apron  Chocolate Chip Cookies (which are both Gluten-free & Dairy-Free) as well as the Mighty O Vegan Sprinkle Doughnuts. Muwahaha!!)
Well, I'm quite obsessed with their chocolate chip cookies which is saying a LOT for someone who isn't particularly fond of chocolate. My all to often nightly ritual consists of mixing a Flying Apron cookie and a few small scoops of LivingHemp Ice Cream which can actually become an expensive habit and deprives me of both my baking fix and smelling the house up with cookie scent!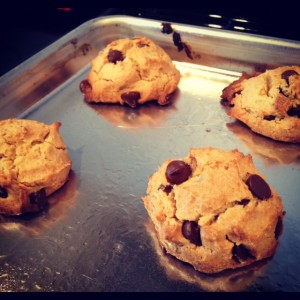 Flying Apron's Gluten-Free Chocolate Chip Cookies
15 cookies 
2 3/4 cups brown rice flour
1 1/2 cups plus 1 tablespoon garbanzo bean flour
1 teaspoon baking powder
1/2 teaspoon baking soda
3/4 teaspoon sea salt
1 cup canola oil
1 cup organic whole cane sugar
1 teaspoon vanilla extract
1 cup soy milk
1 cup (8 ounces) dairy-free dark chocolate chips
1. Preheat the oven to 350 degrees F.
2. Combine the brown rice flour, garbanzo bean flour, baking powder, baking soda, and salt in a large bowl. In the bowl of a standing mixer fitted with the paddle attachment, combine the canola oil, organic whole cane sugar, and vanilla until well mixed. With the mixer on low speed, add the flour mixture and rice milk alternately, a little at a time, until smooth, about 3 minutes. Stir in the chocolate chips.
3. Scoop the dough onto greased or parchment-lined baking sheets with an ice cream scoop. Bake until golden and slightly firm to the touch, about 17 minutes. For a fancy look, dust the cookies with cocoa powder while they are still hot.