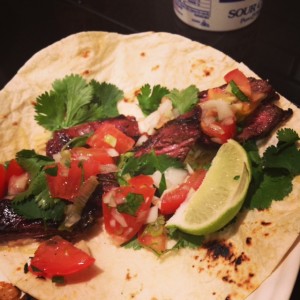 Taco Tuesday is a long-standing tradition in our house. As we start to get the pockets of good weather in Seattle I get more and more excited about one of my favorite things, roof top grilling. Now, we are not just your casual  everyday grill people. We're Californian, which means we're dedicated grillers;  we grill in all-weather! Neither rain, nor sleet nor wind or snow shall keep us from the grill! True story, my dad's been known to put on his boots and grill in the SNOW! Luckily Taco Tuesday was somewhat sunny so the grilling experience was more leisurely than it is when you're all out fighting wind or snow.
As you may have seen from this weeks Mango Salsa post, I had some Carne Asada tacos at our local Farmers Market and that started the obsession fever. They were amazing tacos and I had to try my hand at replicating that amazing experience. I'm happy to report, this little recipe made it in the top 5 BEST MEALS EVER list from the mister! Even I was speechless after my first bite…and realized that my biggest problem in life at the moment was that I didn't have a bigger stomach!
Carne Asada Steak Tacos with Pico De Gallo, Grilled Cabbage Slaw
(Various parts of recipe adapted from Food Network)
Flank Steak: 
2 pounds flank or skirt steak, trimmed of excess fat
1 large baking dish, to prepare
1 large ziplock bag, to marinate
1 recipe Mojo, recipe follows
Olive oil, for coating the grill
Kosher salt and freshly ground black pepper
Mojo:
5 garlic cloves, minced*
1/2 jalapeno, minced
2 large handfuls fresh cilantro leaves, finely chopped
Kosher salt and freshly ground black pepper
2 limes, juiced
1 orange, juiced
2 tablespoons white vinegar
1/4 cup olive oil
For Serving:
Tortillas (We " Home-Style" flour tortillas)
Cilantro
Lime wedges
Cheese
Pico de Gallo, recipe here
Grilled Cabbage Slaw, recipe here
Mango Salsa, recipe here
*Conversions for garlic if you don't have the fresh stuff: 1 clove = 1 teaspoon chopped garlic = 1/2 teaspoon minced garlic = 1/8 teaspoon garlic powder = 1/2 teaspoon garlic flakes = 1/4 teaspoon granulated garlic = 1/2 teaspoon garlic juice
Directions
If you are using the Pico de Gallo, Cabbage Slaw, or Mango Salsa prepare all of the herbs and veggies at the same time before you prepare the meat. Getting all the chopping done at once makes the job easier and all of these dishes and side dishes are better when they're left to marinate for a while!
To make the mojo, wash and chop all ingredients into a bowl and mix well. Lay steak out in a large baking dish and lightly coat with black pepper then pour the mojo over the steak making sure to spread out the clumps of cilantro and garlic. Fold the top of your plastic bag over itself twice, to keep any juices from interfering with the zip lock seal. Fold the meat over itself in quarters, with the mojo on the inside, and place in the plastic bag. Pour remaining mojo juices over the meat. Seal the bag and refrigerate for 1- 8 hours. I prefer a longer marinate time so the juices really soak into the meat, but don't marinate longer than 8 hours as the citrus in the mojo will break down the delicate cut of meat and render it mushy.
Once you're ready to cook the meat, pre-heat the grill and start a pan on the stove to cook the cabbage slaw. (You can also broil the meat, but we prefer to grill if that option is available). Brush the grill with olive oil to keep the meat from sticking. Grill (or broil) the steak for 7 to 10 minutes per side, turning once, until medium-rare. (At once you do the first turn, you can get out the toppings and have them ready.) Remove the steak to a cutting board and let it rest for 5 minutes to allow the juices to settle. Thinly slice meat, heat up tortillas over open flame on the stove and assemble a masterpiece!