If we must eat, it must never simply "fine" but exquisite.
A Byte of Life is a food and lifestyle blog focused on delicious, simple meals and balanced living. Whatever your lifestyle, food preferences/allergies are, this blog is aimed at helping equip you to live the life you desire to life by putting the "how" into back into life by delivering bite sized inspiration to nurture your body and soul.
I believe…
…that EACH meal should be something special to look forward to
…that cooking doesn't have to be hard, but it does have to be delicious
…that there shouldn't be recipes, only guidelines for personalization
…anyone can cook with the right ingredients and instructions 
…that food allergies/preferences shouldn't limit your food experience
Hey It's Okay… 

…that your food gets cold because you're photographing it
…that you get so excited about a new recipe that you fall over
…that you think you can't cook… that can be cured
…to get so excited about a new recipe that you HAVE to go cook it asap… even if it's eggplant Parmesan and you found the recipe at 8am
This blog came about from a combination of my passion for cooking, laziness, and living alone. I found myself cooking up meals that were not only tasty, easy to assemble out of my pantry, but also looked nice. I often wished that there was someone there to share the beauty and delectable flavors with. So, I started uploading my photos to Facebook so I could feel like my friends were enjoying my meal with me.
After countless comments of "WHAT IS THAT AMAZING LOOKING MEAL" (no joke there…all caps) I started including the ingredients of the meal. That sprouted into starting a food blog laced with little lessons I'm learning along the way which I've labeled "bytes". You might be wondering why the heck I'm spelling that word incorrectly. Well, that's a shout out to my tech geeks…of which I must admit I am one. A "byte" is a piece that makes up a whole…so… the "bytes" on this blog are meant to be small digestible bits of inspiration and information to help ground, inspire, remind, encourage, and motivate you to live the life that you truly desire.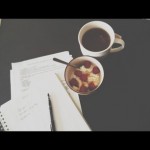 About Me
I love food porn, oversized glasses,  red wine, and sprinkles. I'm addicted to Pinterest (take a look). I shop farmers markets whenever possible and love eating at and supporting local businesses. My Winter sports are baking and drinking,
Meet an old soul gallivanting in a twenty-something's body. Social Media Marketing Business consultant by trade, food blogger and wine lover by passion. Renaissance woman meets modern business woman. It's not hard to cook and eat well when your prioritize it.  Being prepared is the first step!
My worst fear: Hosting a dinner party without enough leftovers to feed an army!
Greatest Accomplishment: Anyone who says they don't like veggies hasn't eating dinner with me (true story…come on over!)
Please make yourself at home, get comfy and browse as you please! Follow on twitter, view my photos on instagram, check out my pintrest and be sure to sign up for e-mail for notification (on the main page) to receive new posts! Also feel free to drop a note if you have feedback, suggestions or encouragement via e-mail: abyteoflife@gmail.com
This is a PR friendly food and lifestyle blog and I love to work with your brand in the future. As a foodie and blogger, I'm always on the lookout for exciting and helpful new products, tools and services.
Food Themed Books and Cookbook Reviews– Are you an author or publisher that writes about  or photographs food, wine and food culture books? Send a copy,  social media handles and hashtags you'd like to promote and a press release and I will happily post a review of your book on my own site and appropriate sites I write for including an Amazon.com product review. Please note, my honest opinion will be portrayed.
Product Reviews -I this blog focused on healthy, approachable yet exquisite experiences with food. From the preparation and service, to the food sourcing and quality, I focus products and techniques that enrich our lives. If you have a product, food/kitchen/other that you would like me to review please don't hesitate to contact me.
Company and Brand Events – With a background in Social Media and Marketing as well as event planning and wine pouring, I completely understand the importance of positive "word of mouth" affirmation for a product or brand. I travel and represent your brand at a food-related event and help to promote it to my fellow bloggers.
Brand Ambassador – Related to the above, I am happy to be an ambassador for your brand including writing reviews, attending local conferences, traveling to represent your brand at trade shows, hosting and promoting Google hangs, recipe development, etc.