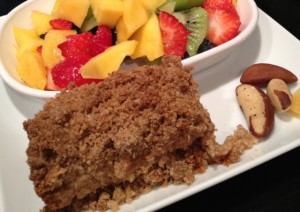 The crumble topping was good, not too sweet and had a balanced cinnamon spice-ness. The cake was pretty simple. I like a more fluffy cake, but in it's defense, this one did have a 'melt in your mouth' quality to it. Overall, it'd say its a solid cake, but it's not necessarily the most amazing one ever. I'll be experimenting with different recipes to find the ultimate and will keep you all posted!!
Vegan Coffee Cake
(Adapted from Usually Vegan)
Ingredients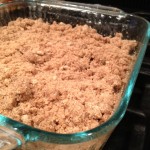 Topping
1 cup whole wheat flour
1/3 cup brown sugar
1 tsp cinnamon
1/4 tsp nutmeg
1/4 c.+ tbps canola oil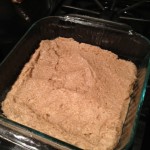 Cake
3/4 cup soy-dairy milk
1 tsp apple cider vinegar
1/3 cup (half sugar, half honey)
1/2 cup canola oil
1 tsp vanilla
1 1/4 whole wheat flour
2 tsp baking powder
1/2 tsp salt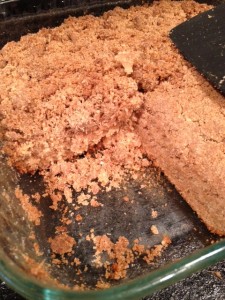 Directions
Preheat oven to 375°F
Grease an 8 in. pan,
In a mug, mix  milk for the cake and the vinegar; set aside to curdle (trust me… you'll know when it's curdled)
Mix dry ingredients for topping well in a bowl. Slowly drizzle in canola oil by the tablespoon, using your fingers to swish around the mixture until crumbs form. Alternate drizzling and mixing until all the oil is used and large crumbs have formed.
Mix cake ingredients together. For this recipe, I just threw it all in a bowl and I"m wondering if maybe that lent a hand to the non-fluffy nature of the cake. next time I'll try mixing the wet ingredients together, including the curdled milk, and separately mix the dry ingredients then combine.
Pour the cake batter into the prepared pan. Sprinkle crumbles on top.
Bake for 35 to 40 min. or until a knife inserted through the center comes out clean
We were supposed to let it cook for an hour before eating it, but let's be real, who can wait an hour when the house smells like coffee cake!