Southern comfort, Ballard style. If you enjoy a good drink, great ambiance and southern food…look no further!
Character: Comfortable, sophisticated yet approachable with almost a saloon style charm. From the mason jars for water glasses and chandeliers to the wooden tables, to their array of music, vintage flair and reclaimed style decoration, you will feel right at home. The entire atmosphere was cozy, comfortable and inviting, perfect for date night or drinks with a group of friends. They have a large back patio and a surprisingly large amount of inside seating that will suit any mood you're in, from seats at the bar, to the bay window style seating in the lovely big front widows, or cozy booth in the back, or an array of tables scattered throughout the open space. I have to give them 5 stars for EXCELLENT customer service! They were attentive but not overly so, allowing us to have time to just sit, relax and observe.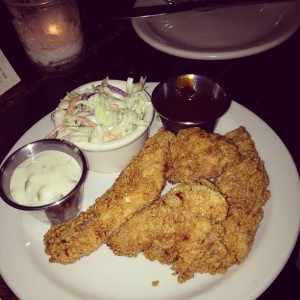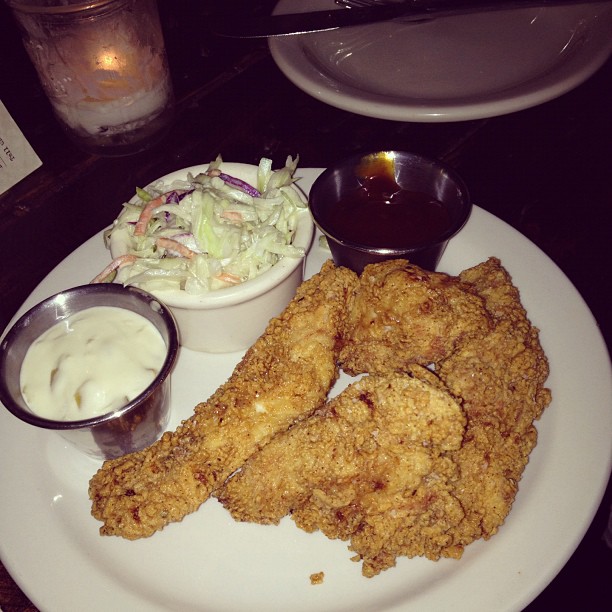 The Menu: Their small plates are just that, small, but there is nothing fragile about them.
With the theme of refined southern you'll find items like fried Brussels sprouts and sea salt, apple cider braised ribs with Bourbon ginger and BBQ sauce, hush puppies with roasted red pepper aioli or corn bread with roasted red pepper butter, collard greens…you get the picture. Prices range from $3 – $13 for the food and the drinks. The flavors were approachable and true to southern style, fried! Rest assured, like any good southern host, they make sure you won't leave the table hungry.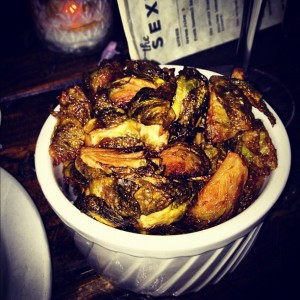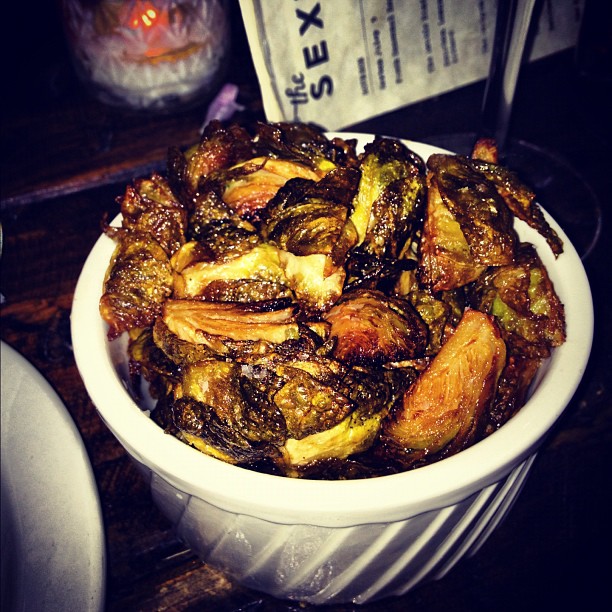 Our Order: We got the fried Brussels sprouts, a side of shrimp and the fried chicken. Hostess was gracious and accommodating to my food allergies (no dairy) and personally assured that we were taken care of. I wasn't amazed by the shrimp (also had it out of context since it's usually served on some good southern grits), but those Brussels sprouts are sinfully addicting and the fried chicken would have made Colonel Sanders green with envy. It was incredibly moist and flavorful, fried enough to make it crispy but not too oily, crispy yet tender, batter was very flavorful and proportionate. None of the ingredients are compensating or covering up in this fried chicken like in so many other over fried, over battered, less that moist fried chickens I've tasted.
Overall: This place makes me want to put on the nearest floral patterned summer dress, relax on the back patio and "bet on the bar tender" (the Bar tender will make you a hand crafted personalized cocktail based on your tastes)…while enjoying an order of those fried Brussels sprouts!