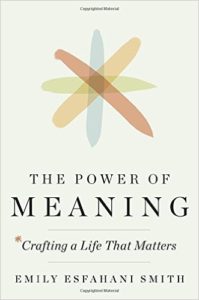 If you have not done much reading on positive psych, and don't like science, then this is a very approachable and reliable source to get started with.
First, if you are even thinking about reading a book like this one to learn more about this idea of  "Meaning" you're starting on an amazing path of self and societal exploration and I encourage you to read any and all of the literature on this topic that you can possibly stomach!
Second, if you want a more story based approachable easy read on the topic versus a more direct scientific type of tone to Mindfulness this could be a good place to start. If you prefer the more direct, scientific type writing I'd skip this one.
For my personal opinion of the book- I really wanted to love this book… but I prefer books that are a bit more "to the point". The author is great at telling stories but I was hoping for more direct, actionable rhetoric. There are great citations to others work on the topic of "Meaning" which I liked and even looked up a few people she quoted, and there were some well phrased nuggets of information but it was just a more drawn out and story based than I personally like.
Overall, if you have read a reasonable amount of reading/research on this topic, there admittedly won't be any ground breaking discoveries here. The theme of searching for and discovering meaning (through belonging, purpose, storytelling, and transcendence as outlined in this book) is thoroughly covered in other books that you've likely already read or are have been recommended to your reading list.
That being said- the topic of meaning is an important one and I would recommend this book to anyone looking for a story based approach to exposing themselves to the idea of creating a live the matters.