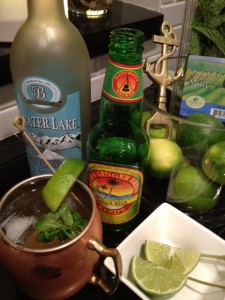 We can't remember where we first experienced this wonderful, refreshing and tasteful drink that has blessed our lives, but I hope that this post will inspire a first encounter for you!
Seeking to do something extra special for date night I decided that we needed to spend a fun night in, which was also better on our budget, and decided to make what turned out to be a most incredible dinner! Our menu was planned solely around the drinks like any cocktail menu should and after much debate and recipe searching I settled on writing a recipe for Cilantro Lime Skewers & "whinging" the compilation of some loaded Potato Skins (recipe here). We splurged and got the traditional Copper serving Mugs for the Mule's because, life is short and really… is there really ANY other way to drink these!?
I mastered the kitchen side while I instructed my faithful sous chef to play bartender and he whipped us up a pair of wonderful drinks!! According to Wikipedia, "the cocktail was invented in 1941 John "Jack" Morgan, President of Cock 'n' Bull Products & an East Coast spirits and food distributor."
The smell of the fresh squeezed lime and the aroma of mint overtook the kitchen and I couldn't help by peek over his should and snap a few pictures (staged to perfection of course!) while he concocted our libations. They turned out marvelous and just when I thought we'd reached the utmost perfection after the third sip, my bartender grabbed my mug and added his own little twist to the drink: a splash of Sailor Jerry Rum. Well now, ladies and gentlemen, this was the game changer. This is now an ENTIRELY DIFFERENT DRINK! Okay, maybe not that dramatic of a change but it warranted a new name and we decided on the Summer Sherpa. There is a story behind this but I think I might loose you if I dive into it to much. For now, let's just all grab a Summer Sherpa and talk about good times and great oldies! (And the hope of summer where we can be sipping these on the roof.. okay there's half the story behind the name! 🙂
On a side note for ingredients, we LOVE the Crater Lake Vodka and Gin; it's SO smooth! I would highly recommend that you stock your pantry with this wonderful Vodka, but truly any Vodka will work for this recipe. This go around was preparation for what will be many nights of enjoyment up on the roof this summer, sipping Moscow Mule's out of our fancy copper cups!
Moscow Mule
Ingredients for single drink
Directions
Squeeze lime into copper mug (and if you'd like you can drop in half lime

Add 2 or 3 large ice cubes, then pour in the Crater Lake Vodka

Fill with cold ginger beer (optional Sailor Jerry Rum added here) and garnish with a fresh lime and a few springs of mint

Enjoy your wonderful drink!
Once you make the recipe, I'd love to see your pictures, hear your personalization flares, and read what menu's you created to accompany this wonderfully refreshing drink!