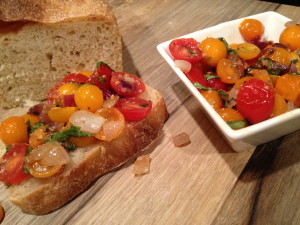 Somewhere in my DNA, there is an Italian heritage hanging out. Though I haven't yet been to the country I seem to have an affinity for anything Italian. The culture, language, food, and history are all part of Italys draw on me.  Italy is a country that has always had a pull on my heartstrings. Chianti is my favorite wine AND Italy was my favorite part of Eat, Pray, Love. Honestly, I usually start the book with the intention to simply stop after Italy but I always get wrapped up in the purpose of the book and wind up reading India and Indonesia and mirroring her own journey in my life as I read it.
While pasta and pizza are the two dishes that will likely come to mind when you think of Italian cooking, there are SO many other amazing and unique recipes and preparation styles that grace us from that fantastic country. I don't remember the first time that I had bruschetta, but I do remember the first time that I had my other half's bruschetta. It was after one of our first road trips together, the sun was shining, we were in the honeymoon of early enamoration and the world was our oyster. Yep, I just made up a word variation for enamored! He "whipped" up his now famous bruschetta while I arranged some tapas on a plate then we grabbed a bottle of wine, our sunglasses, and headed up to the roof to eat alfresco. This is one of my favorite meals I've actually ever had because it combined so many of my all time favorite things: those I love, wine, tapas style eating, sunshine, eating outside and fresh foods.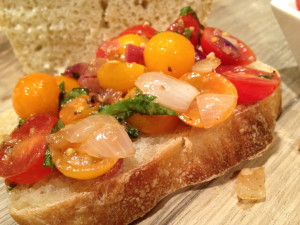 This bruschetta has been requested MANY times and while he's never used a recipe, it always has that taste of spending a summer day eating outside on the roof with someone you love. You'll notice there are not measurements. In the true Italian form, this is a dish that is best mastered over multiple and personalized to the chef and guests tastes so you can experiment with the ratios on each of the ingredients and put your own spin on the taste and texture.
One thing I will note about this dish, is how little oil you need. Olive Oil is both delicious and good for you when used in moderation, but this spread needs very little olive oil which increases the flavor and allows you to focus on the texture of the herbs and tomatoes versus any exceeding amount of oil. The shallots, onion and garlic have their own natural oils and juices, and finding a balance between those natural oils and a minimal amount of EVOO to sauté in will be the key!
Fresh Garden Bruschetta
heirloom cherry tomatoes, washed and halved
basil, washed and chiffonaded
fresh cracked black pepper and sea salt, to taste
aged balsamic
EVOO, used sparingly
minced garlic
red onion, chopped
shallots, chopped
grated parmesan or mozzarella cheese
artisan bread slices
Wash and prepared each of the veggies as directed and slice up the artisan bread
In a medium bowl, mix the tomatoes, basil, cheese and a drizzle of balsamic, adding fresh cracked pepper and sea salt to taste
Heat a pan over medium-high heat, using the EVOO sparingly
Add onions and shallots and cook until they start to turn translucent
Add the garlic to the pan and 

reduce to medium low, cooking just a few 

minutes

 longer to mix flavors 

Pour the hot mixture into the bowl, and gingerly toss all ingredients together

You can either serve this immediately or make it ahead of time, cover and refrigerate up to 3 hours