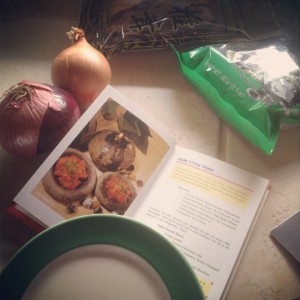 Aloha! We're celebrating my parents 30th anniversary in  Hawaiian WARMTH and relaxing style! (For some reason they decided to invite us along, so we bought our plane tickets before they had time to change their minds!)
While relaxation is the name of this game, there are a few things I wanted to do: paddle board, sleep, eat my weight in pineapple and consume as much fresh fish and shrimp as I can possibly hold! Browsing around the ABC store in Downtown Kona (We needed to stock up on some "beverages" for our beach happy hour) Mom came across Sam Choy's Little Hawaiian Cookbook for Big Appetites and it had some delicious looking recipes so we picked it up and had a tried a few for our sunset picnic at the beach! 
And here is a shot of our Beach Picnic!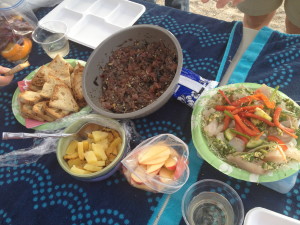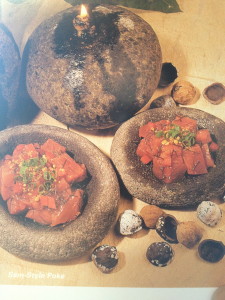 Sam-Style Poke

Serves 8

2/3 c Sam's Secret Sauce (see below)
2 lbs finely diced 'ahi (yellowfin tuna)
4 tsp 'inamona (which is crushed and roasted kukui nuts, can sub 4-6 tsp crushed cashews for same taste)
1 c rinsed and chopped ogo (seaweed)
1 tbsp sesame oil
1 tsp soy sauce
—
Sam's Secret Sauce

2 c water
2 tbsp Hawaiian Salt
2 Hawaiian chili peppers, finely chopped (or red pepper flakes)
—
Make Sam's Secret Sauce first by combining all ingredients and stirring until salt dissolves and set aside (not heated, just mix at room temperature). Cut the 'ahi into chunks, no more than an inch square. Sometimes 'ahi has white bands, or strings, of fat and with the raw fish you'll want to remove some of this if you can so you might have to determine the size of the poke around whatever size results after removing the strings.  Combine 'ahi with 'inamona (or crushed cashews), ogo (seaweed), sesame oil, and soy sauce. Mix thoroughly. Add Sam's secret sauce and marinate for 60 minutes in refrigerator.
There are a few ways you can serve this dish but we found that serving on rustic bread, cut into "serving sizes" and toasted in the oven was by far the most delicious! Just make sure they're not TOO done… some of ours came out a bit too toasted and scraped our mouths! You could also serve on cucumber slices!
Ginger Ono

Serves 6 

Local Pepe'ekeo Dip
1/2 c oil 

1/2 tsp salt
1 clove garlic, minced
1/4 c ginger, minced
1/4 c green onion, minced
1/4 c lightly packed Chinese Parsley, minced (We used Cilantro and it was delicious)
1/8 tsp White Pepper
1/4 Tsp red pepper flakes or 1 fresh Hawaiian chili pepper, minced
—
1 lb Raw Ono
1 1/2 c assorted sprouts
1/2 cup Local Pepe'ekeo Dip (recipe above)

—
Make the Local Pepe'ekeo Dip first.
In a small sauce pan heat the oil then add the salt and cook for 2-3 minutes. Remove from heat and let cool. Stir in garlic, ginger, green onions, Chinese Parsley/Cilantro, white pepper and red peppers. Chill. To serve, thinly Slice raw ono. Line small platter or individual plates with sprouts of our choice. Arrange ono slices on sprouts. Spook the Local Pepe'ekeo Dip over the fish and serve chilled.