Happy New Year friends! Hope you are all having a fantastic week, and can you believe that it's already half way through the month? Where has the time gone, I'm in denial. The past few months have been just insane packed; between work travel, personal travel for the holidays, holidays and buying a new house (more on that later)… it's just been crazy.
I don't do the whole "new year's resolution" business. For me, the year renews on my birthday and let's be honest… how many resolutions do we actually keep? I much prefer choosing a few things to work on and be mindful of as the year progresses to front loading my things to update list. My thing this year is to be better about cooking different things. There's a cooking "rut" that I can easily slip into when life gets hectic. My go to recipes are played over and over like a worn our record and in the same way that listening to the same song 50 times get's old, so does eating exactly the same thing day in and day out. That being said, I feel like I do need to give an honest disclaimer here and say that when the Coldplay "Sky full of Stars" and Adele's new song "hello" came out I played those bad boys like they were going out of style.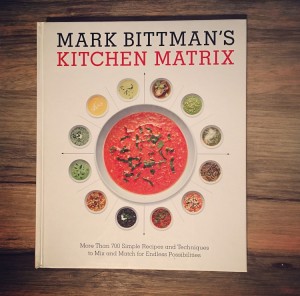 Back to resolutions, I decided that with a new kitchen and finally having an oven again after what felt like an eternity, it was time to crack one of the stacks of cookbooks and try a few new recipes. The first cookbook I reached for was Mark Bittman's Kitchen Matrix. This book is my mantra. He builds this cookbook on the idea of improvisation; presenting multiple ways to cook the same ingredient or ways to play with a certain method of cooking. This book is about finding an ingredient that gets you excited to cook, then shopping for the recipe.
Regardless of your cooking style, this book will inspire you. By the book recipe follower, you'll be happy. Improv loving pinch of this and that cook, you'll be inspired. There is truly a recipe for everyone, gluten-free, meat loving, paleo, vegan, etc.
The diagrams and imagery in this book, not to mention the organized and mindfully chaotic way each page is laid out, was so easy to digest and kept me turning the pages. It really is a kitchen bible, from a DIY condiments/sauces like homemade ketchup and teriyaki, to an entire section devoted to how to make your own spice mix, 12 ways to cook eggplant and mouth watering meat recipes, you'll be able to cook and improv to your hearts content.
I received a free copy of this book for my honest opinion, and my opinion was in no way biased.