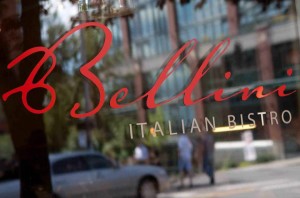 Belltown finally has a fantastic Italian Bistro! We have walked past this little spot many times as they "coming soon" sign was up and wondered what exactly this location would be. When an Bellini opened as an Italian Bistro, we were delighted! The interior decor, music playing, hospitable service and the delicious smells wafting from the open kitchen style all grab ahold of your sense and entice you in!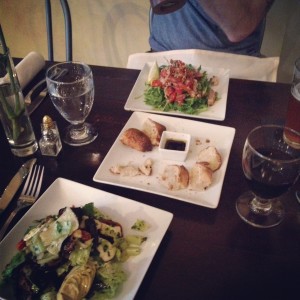 We started with a glass of wine and a beer on tap, and took a look at the appetizer salads. Truthfully, the healthy portions of amazingly delicious mixed salad with fresh ingredients like salmon, salami, marinated grilled veggies, mozzarella cheese… these delightful salads would have been enough to satisfy us when paired with the amazing warm crusty bread with olive oil they serve. Let me pause here for a moment. You might not agree but I totally judge a restaurant by the type of bread they serve and let me tell you Bellini's bread alone earns them a gold star in my book! This bread is perfectly crusty on the outside, light and fluffy on the inside and a hint of sweetness that just makes me want to curl up with a basket of it and cuddle. It gets even better; they use the same recipe for the bread that they use for their pizza dough. It's baked fresh daily, then cut into fresh hot little bites of goodness and served with a delicious olive oil and balsamic dipping sauce. If the BREAD is that good, you know the meal is going to be amazing.The salads we ordered to start were amazing and could have possibly settled for sharing an entree but after that teaser of our amazing starters we had to proceed with our entree orders. He ordered the Cimarosa salad with smoked salmon, arugula, and roasted peppers tossed in EVOO and lemon juice and chose the Fettuccini all'Ortolana which featured fresh homemade fettuccini with fresh spinach, peppers, artichokes (substituted sun-dried tomatoes instead of these) and roasted eggplants.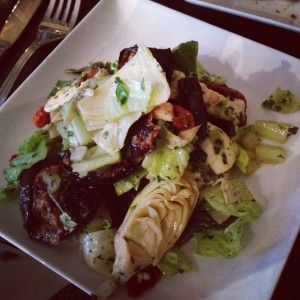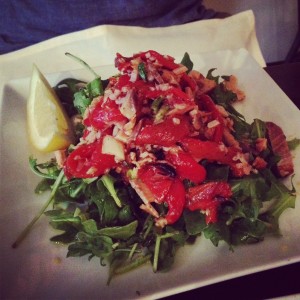 It was hard to decide what to eat, because I literally wanted a bite of EVERYTHING! After taking my sweet time reading the menu over and over to try to narrow down my plethora of choices, I opted for the Verdi with romaine hearts, sun-dried tomatoes, roasted eggplants, artichoke hearts, roasted peppers and substituted the feta for mozzarella. For my entrée, I ordered the Parmigiana de Melenzane off the "antipasti" part of the menu, which featured layers of eggplant in marinara sauce with fresh mozzarella and Parmesan cheese.
Every bite was AMAZING! The salads were perfectly portioned and tossed with just the right amount of olive oil and lemon juice. The entrees were delicious and were healthy portions, just like the appetizers were! His pasta was deliciously fresh, both the sauce and the pasta itself. My "appetizer" wound up being a perfect size for a meal, and I'm not sure where I found the room to finish that heaping plate of expertly cooked eggplant, sauce and cheese but I leave no bites behind on an incredibly food adventure like that! I found the room and finished every last bite, it was too good to have the good sense to stop eating when I was full. The happy whistle and singing of the chef sweetly echoed  through the restaurant, and only added to the wonderful ambiance! I just wanted to sit there and soak it up! To top it off, the chef brought us out a bowl of complimentary fresh cut honey dew melon! It was the perfect ending to an amazingly filling meal!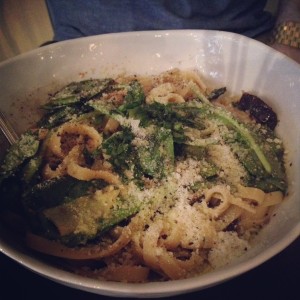 The service was first class, the ambiance was inviting, chill and approachable. They have a fantastic little place here and they are the sweetest most humble people! When we tried to give the chef a tip at the end, he refused to accept it and said to please let the tip be our spreading the word about Bellini. Ladies and gents, this place is LEGIT and a new favorite! 

I can't wait to go back and try their pizza and hit them up for lunch! I'm still have happy visions of how amazing that dinner was!