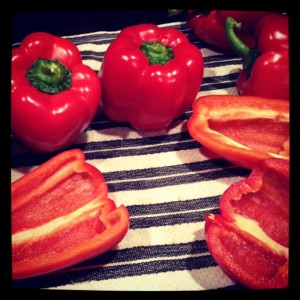 Roasted Red Peppers are a love affair of mine. It feels like I'm getting caught in the act of hijacking cookies secretly from the cookie jar when I eat them…yes…straight from the container. It "feels" like I'm doing something wrong because how can such a delicious treat be SO good for you!?
When the peppers are roasted it brings out their sweetness and lends a wonderful charred flavor to them which also makes them a wonderful addition to any sandwich, salad, tapas or antipasto plate, pasta, humus, dip, need I go on?
I decided that it was best to read up a bit before jumping in and ruining 5 wonderful red peppers and I was SO surprised by how easy the process was! The roasting process is painless, the hardest part will be the options of what to DO with the peppers once you've roasted them.  You can use them right away, put them in a jar to eat through the week, freeze them or can preserve them. The thought of freezing them makes me a little skeptical, I feel like they'll be mushy when they're thawed out again. For this recipe I made enough for two weeks(ish) so I didn't need to do any sort of preserving but this afternoon I'll get another batch of peppers and a few mason jars (which I also have a crush on) and giving this Marinated Roasted Red Bell recipe from Simply Recipes a try.
Tips:
CHAR the peppers! Not only does this create the smoky flavor but it will also help you pinch off the pesky and indigestible skins.
Once out of the oven, place in a paper bag for  20-ish minutes (or longer if needed) to help steam the skins apart from the pepper. You can also use large bowl and cover with saran wrap or place in a large Tupperware. If you don't let them  char OR steam long enough and it is a PAIN in the rear to pinch off all the skins! So, make sure you char and steam them long enough!
There are SO many recipes that I want to try with roasted peppers! I've listed a few of them below. Please feel free to post comments with your favorite red pepper recipes! I'm always looking for more!
Red Pepper Recipes to Try
Panini with eggplant, onions, roasted red pepper and basil
Roasted Red Pepper Humus
Marinated Red Peppers
Tapas Plates (Pimientos Rojos con Anchoas)
Roasted Red Pepper Sauce
Grilled Eggplant with Roasted Red Pepper Tapenade
Roasted Red Peppers
Ingredients
Red Peppers (Yellow or Green work also, I just prefer red)
Reynolds Wrap Non-Stick Aluminum Foil
Cookie Sheet
Large Tupperware container or bowl and saran wrap for steaming the skins off
Directions
Preheat the oven to 450F then change to it to broil.
Wash and dry the peppers.
Core them from to remove the seeds. My method is the cut off the stem and cut around the top stem area like you would if you were coring a tomato. Pop out the core and chop them in half to remove all the seeds and white membrane inside.
Place the red peppers on an aluminum lined baking sheet with the cut side facing down.
Place the baking sheet on the top shelf in the oven and broil until the outer layer of the skin has blackened, about 20-25 minutes. Check them at the 15 min mark just to see how they're charring…everyone's oven is different.
Place the peppers in a the Tupperware or in a glass bowl covered with saran wrap and let them steam and cool until you can handle them, about 20 minutes.
Pinch off the skin from the peppers and place directly into jar or your preferred method of canning/preserving/freezing.