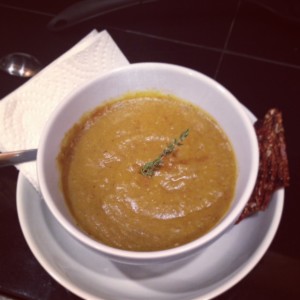 It has officially gotten cold in Seattle. Not "girl" cold where it's 50 degrees and my tosies get a little chilly. I'm talking Midwest, you can see your breath, chill hits to your bones cold. We've had low 30's for about a week now and even my poor parsley I forgot on the patio was frozen to the bone! With cold like this, a big bowl of warm homemade soup is just the ticket to help you thaw out! After being used to cooking an ENTIRE Thanksgiving feast, four pies seemed like a walk in the park! I opted for the my go-to holiday hits and baked four fresh crusts from scratch  for pumpkin pies and two pecan pies. Of course, I home-roasted the pumpkins using my recipe HERE.
we would up with all of the veggies that I had drug up my parents house with the best intentions of cooking up for my family. What do you do with bunches of leeks and a massive yellow onion?
Well, you buy potatoes and carrots and make soup of course! I wrote this recipe from looking at a few different ones, and deciding that I didn't want dairy OR soy in my soup…and using this a little as a kitchen soup recipe to clean out the fridge. The recipe  is sweet because it's relatively low maintenance and you can make it in your VitaMix or if you have a food processor. Super simple, SUPER delicious, and super healthy! No diary, no soy, gluten-free, and  can be made vegan if you substitute out the chicken bullion.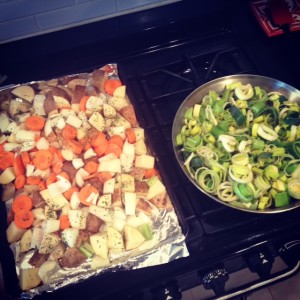 Potato, Carrot Leek Soup (Dairy Free, Soy Free, Gluten-Free, Vegan)
prep time: 10 min | cook time: 1 hr
5 leeks
2 ½ tsp minced garlic (or 5 fresh cloves)
5 stalks celery + the center lighter part with the leaves
dried Parsley (or fresh!)
5  medium russet potatoes
2-3 large carrots
½ large yellow onion
2 tbsp chicken bullion ( I swear by Better Than Bouillon Organic Chicken Base, Reduced Sodium)
8 cups water
1 tsp ground rosemary
1 tsp fresh thyme
2 bay leaves
fresh sea salt and pepper
Pre-heat oven to 400.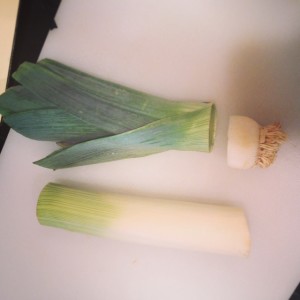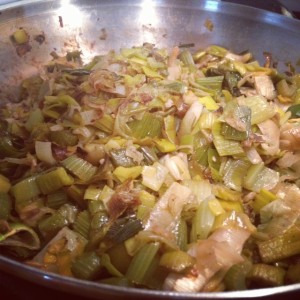 Wash, peel and chop all vegetables. To clean the leeks, cut just above the roots and just below where the dark green leaves start to branch off. Wash the body of the leek and peel the outside layer off. Cut into disks. For the dark leaves, cut the tips off and be sure you have washed them well. Then slice and set aside. For the potatoes, I usually cut the potato in half, then half again and cut into chunks.
Misto spray a cookie sheet then place carrots, potatoes and onion on cookie sheet. Dust with fresh cracked pepper and dried parsley (unless you have the fresh stuff- in that case add when you puree the soup).  Cook 40 minutes or until potatoes are soft in the center. Turn veggies once or twice so that all surfaces get browned.
While those veggies are in the oven, get out a large pan and sauté the garlic. Add the leeks, separating the layers of the disks, and the celery. Then add a little fresh cracked pepper and some salt. Sauté until all the veggies are cooked. As I turn the leeks and celery in the pan, I'll do a light olive oil Misto spray just so everything gets a little charred in the pan and I'll also coat with pepper. Also, any of the leek that is still held together in the little disk, separate the different layers as you cook.  I never measure pepper and I like the flavor so I usually just cook by sight and will add until I feel like it's seasoned.
To make the broth, bring the water in a 10-cup stockpot then stir in the chicken bullion. Add the rosemary, thyme and bay leaves. Bring to a boil and simmer for 10-15 minutes.
Once all veggies are cooked and the broth has simmered, remove the bay leaf and get your vita mix ready. Place 1/3 of each of the ingredients in the blender and blend on medium until thoroughly puréed.  Once puréed, place back in the stockpot and repeat until all of the ingredients are puréed. Simmer soup for 10-15 minutes and serve.
Can be frozen up to 4 months in a freezer Ziplocs bag or Tupperware. .