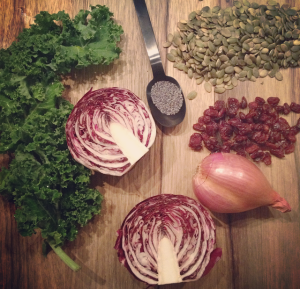 I met this delicious seasonal dish at a baby shower a few weeks ago. Let's set the stage here; I'm not usually super amazing thrilled baby showers attendee. But, one of my very good girlfriends recently had her first shower and there was a sacred promise that there would be no games, which is a huge plus for encouraging attendance. Little did I know that I would be greeted upon entry with a glass of La Marca Processco (which is my favorite) and ushered into a room of absolutely fantastic gals. With a glass of bubbly in my hand and a smile on my face I was shown to the food table. This, my fine friends, was both a visual and tasty delight! There were numerous quiche options, fresh shrimp with cocktail sauce, three types of homemade mini cupcakes and an absolutely amazing kale radicchio salad which I shamelessly had thirds of.
The bubbly was also flowing, but, that has no correlation to the 'yum' factor of this salad. Not only was it visually delightful, but it was so delicious that I had to remind myself I was in public and shoving salad into my mouth as quickly as I could was not socially appropriate. It was tangy, creamy, crunchy, herbaceous, earthy and downright amazing. Three bites in I was begging for the recipe. It was a simple and side dish that is easily transported for events and was SUPER tasty. Had I hit the side-dish mecca? Quite possibly my friends, quite possibly.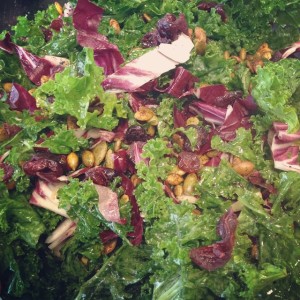 For halloween our office did a "Crocktober" and one look at the food sign up sheet had my insides yelling for something even remotely healthy! Someone's got to make a non-crockpot dish to balance this whole situation out right!? So, when asked to sign up for a dish to share I decided that there needed to be a little balance to the baked goods, 3 types of mac n cheese (including one that boasted being 'texas style' which apparently meant extra cheese and cream), pork, meatballs, cookies, brownies and otherwise carbacious cheese covered feast that was about to ensue. This festive gathering needing kale, lots of kale. Good, wholesome tasty kale. There was no other thought in my mind than to debut the kale radicchio salad recipe. If we're being completely honest, I made this salad for a few reasons; one of preservation so I knew there would be something I would eat there, and I also really needed some motivation to blog this recipe (that a few people have specifically asked for in the past week) and try my hand at homemade poppyseed dressing. Unless I had a deadline of hungry mouths tomorrow and feeling the moral obligation to balance out the cholesterol and sugar levels of the office party, this recipe could have been put off for months.
This recipe is so easy and tasty it's almost ridiculous. It really highlights the fall and winter seasonal flavors that might not be combined in salad form but are absolutely ridiculously good when combined. This recipe calls for one of my favorite seasonal ingredients, pumpkin seeds. Now, if we want to be fancy we'd call them pepitas instead of pumpkin seeds which has a literal translation of "little seed of a squash". It's basically the spanish culinary term for a pumpkin seed. I gave the salad a little upgrade by roasting them with paprika before adding them to the recipe. You can find my recipe for roasted pumpkin seeds here and just sub out the salt for paprika. This is one salad where you can really personalize! Next time I might also roast some delicata squash and add it in, or even pumpkin or butternut squash! 
This salad is really going to be a seasonal staple for us and will be ever evolved. It makes a great simple, quick meal or healthy and tasty potluck dish! It's super simple to make the night before and combine when you're ready to serve.  It's gluten-free, dairy free, nut-free, healthy and easy. Yes PLEASE!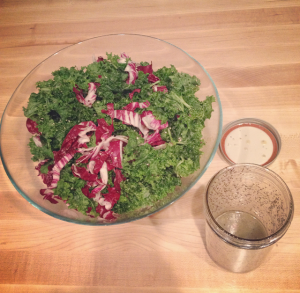 Seasonal Kale Radicchio Salad w/ Poppyseed Dressing
For the Salad
1 head kale, washed, stemmed, massaged and torn into pieces
1 head radicchio, washed and cut and cut in chiffonade
pepitas/ pumpkin seeds
olive oil
paprika
dried cranberries
1 small thinly sliced shallot
Poppyseed Dressing
3 tbsp Katz late harvest sauvignon blanc vinegar
2 tbsp local honey
2 tsp dijon mustard
pinch grey salt
pinch fresh cracked pepper
2-3 tbsp grapeseed oil
1 tsp diced shallot
Pre-heat the oven to 350 degrees. Lay the pepitas out on non-stick foil and spray with olive oil or other high-heat oil. Dust with smoked paprika and toast for 10 minutes, keeping an eye and adjusting time according to how your oven heats. Once they're done remove from the oven and let cool.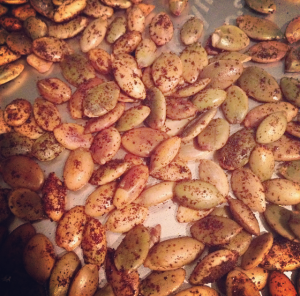 Meanwhile, thoroughly wash and de-stem the kale.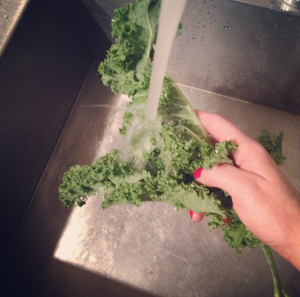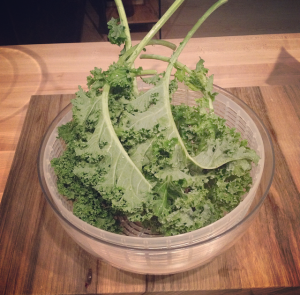 I wash the kale well, and use a large OXO SoftWorks Salad Spinner to dry kale and I absolutely love it! Add a tiny bit of grey salt and massage the kale in the bowl until it reduces in size and turns a darker color.
Grab the radicchio, peel the outer layer, slice in half and core the halves. Pull apart a few layers at a time, fold and chiffonade. The chiffonade technique is basically rolling the leaves and thinly slicing.
Place kale and radicchio in a bowl. Add the toasted pepitas and cranberries to taste.
Place all dressing ingredients in a mason jar and shake to combine.
When you're ready to serve, add the dressing to the bowl and toss.
Variations
Substitute pepitas for walnuts and add goat cheese and parsley with plain oil dressing
Spiced pecans and dried cranberries with a warm bacon vinaigrette
Mandarine oranges with slivered almonds and a sesame vinaigrette
Roast up some delicata squash, butternut squash or pumpkin and throw it in