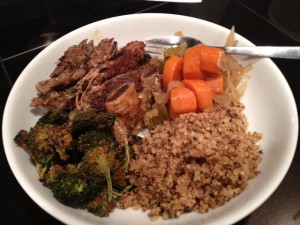 Well Seattle, we're back. Back to the rain, wind and grey skies. Three weeks in Hawaii was quite a nice time to thaw out but, until the sad realization that I had to actually trade my daily uniform of shorts, a tank top and my  bathing suit for real clothes pales in comparison to the AMOUNT of real clothes I have to wear hit me. Currently, I'm sipping hot water and alternating sitting on my hands while I sit here in my coat and scarf….I'm INSIDE! What gives!
Cold weather typically sends me reaching for the Crockpot, or curling up in front of the heater without moving. Since I was craving short ribs, the crock pot won. When we were on Kona, we made a …few…trips to Roy's Waikoloa. Okay okay, we ate there THREE nights in a row! Can you blame us!? They closed our Seattle location so we had to eat all we could get! Well, on night two as we were bellied up to the bar sharing their AMAZING appetizer canoe, (yes, CANOE!) we saw the couple next to us dig into their amazing looking dinner and we flagged down our bartender Brandon (he was AWESOME if you visit that location) and he informed us that it was the Slow Braised Char Broiled Beef Short Ribs. So, night three you know what we ordered?
Yep, Ribs! It was SUCH an incredible dish that when we got home we immediately started searching for the recipe to try our hands at recreating such an impeccable dish! After an absurd time googling various versions and combinations of the words "Roy's Waikolaa Short Ribs entrée Recipe" I found one that was said to be biased on the Roy's recipe so I gave it a try! (Original recipe found here) I didn't have all the ingredients so I altered a bit.
Delicious food deserves pictures…
Slow-Cooker Braised Short Ribs with Honey Garlic Glaze
Adapted from Roy Yamaguchi
Yield: 2 large portions

For the short ribs:
2 pounds bone-in beef short ribs
Salt and pepper
EVOO
Beef stock, enough to fully cover the short ribs (about 32 ounces)
6 cloves garlic, sliced thick
1 large onion, sliced
1 stalk celery, sliced thick
2 carrots, sliced thick
2 bay leaves
1 inch piece of peeled ginger, FRESH ginger
Honey Garlic Glaze:
1/2 cup Dijon mustard
1/4 cup honey
1 clove garlic, minced fine
1/4 cup sliced green onions, both white and green
Allow the ribs to come to room temperature for thirty minutes.  Season all sides of the ribs well with salt and pepper.
Heat olive oil in a medium skillet over high heat.  Brown the ribs well on all sides, about two minutes per side.
In your slow cooker make a bed with the garlic,  onions, carrots, celery, bay leaf and ginger.
Place the browned ribs on top and add enough beef stock to just cover and Cook (Low for 8 hours or High for 4).
Prepare the glaze, cover and refrigerate until meat is done, or you can make it right before you pull it out. I like to have as FEW dishes as possible so I'm a "make ahead" kinda girl! The picture above shows you, if for some reason you wanted to eyeball the dijon, what's left over after using a half cup. I was worried I'd have too much left over but hey, egg salad here we come!
When the timer goes off, remove the lid and take the initial wiff of your amazing deliciousness! The meat will be very tender and you may lose a few bones (which is a GOOD thing!) Remove the ribs from the slow cooker and, while still warm, pour the glaze over the ribs making sure they are well coated.  Allow the ribs to sit for at least thirty minutes  (or store in the refrigerator overnight).
While the ribs rest heat your grill, or a skillet, to medium high heat.  Grill, or sear, the ribs for about one minute per side, or until the glaze sets and the ribs are brown and crusty.
Enjoy! I served with toasted quinoa and Blasted Broccoli