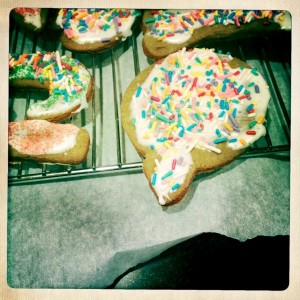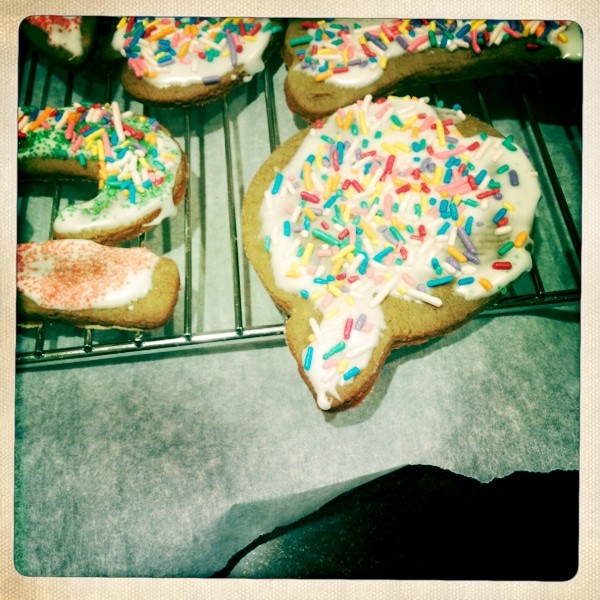 Disclaimer: This is a recipe for GLUTEN-FREE gingerbread. If you're looking for regular gluten-FILLED gingerbread, you can find the recipe HERE.
Starting before Thanksgiving, there is a certain craving that I start to notice. It's not just for the warmth of a cup of tea, or the delicious flavors of roasted turkey and holiday meals. No, it's much MUCH more than that… I get the urge to bake EVERYTHING in my recipe books!  Channeling the reverse of Santa who consumes the baked goods, I try to make enough cookies, cakes and treats to feed everyone who might get within 10 feet of my door! Unless you adore baked goods being forced upon you at every turn, it's best to avoid me for the holiday season!
While I do a lot of baking for others, which includes cooking with those luxuries I can't enjoy like whole milk and butter, there are a few treats that I make in abundance purely to keep around the house. Gingerbread  cookies are my ALL TIME favorite! How can one go wrong with the delicious rich spices, the crunch of the crispy edges and the soft wonderful center… the complimentary royal icing that adorns the top of that lovely treat and even more, the sprinkles or toppings that are hand-picked to decorate the surface of such a treat. Okay okay, I'm getting a little too into the description of the cookie but does that explain how much I adore them!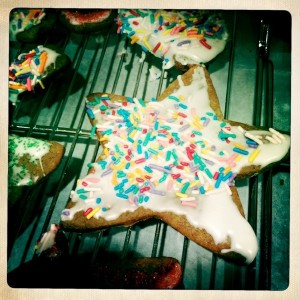 I love gingerbread and use ANY excuse to throw a party (yes, it's actually true!) so it goes without saying that I host a gingerbread decorating party each year. This year, there were actually quite a few gluten-free guests in attendance and I decided that it would be a good exercise to be a bit more mindful with minimizing gluten in my own diet. So, off on the adventure I was to make a gluten-free gingerbread cookie! COOKIES FOR ALL!!! For the cookie part, I complied the recipe from a few different ones that I found and  kinda pulled a "wing-it" with this one. They turned out GREAT! I love Bob's Red Mill gluten-free flour, even the non-glutards (don't get offended… I'm a lactard) couldn't tell the difference and enjoyed them!!

Gluten-Free Gingerbread Cookies
Ingredients
5 Cups Bob's Redmill Gluten-Free flour
2 T. baking powder
2 t. baking soda
2 t. cinnamon
1 t. ground ginger
1 t. salt
1/2 t. ground nutmeg
1/2 t. ground cloves
1 1/2 cups brown sugar
1/2 cup applesauce
1/3 cup oil
1/3 cup molasses T. vanilla
In a small bowl, stir together gluten-free flour, baking powder, baking soda, cinnamon, ginger, salt, nutmeg, and cloves, and set aside.
In a medium bowl, place the remaining ingredients, and stir to combine.
Add the dry ingredients to the wet ingredients and stir well to combine.
Cover the bowl, place it in the refrigerator, and chill the dough for 1 hour or more.
Using a little safflower oil, lightly oil (or mist with oil) two non-stick cookie sheets and set aside.
Sprinkle a little gluten-free flour over a work surface.
Divide the chilled dough into quarters, work with only one-quarter of the dough at a time, and keep the remaining dough covered and chilled until needed.
Working in batches, roll out the quarter of dough to 1/4-inch thickness, and cut into desired shapes with cookie cutters.
Carefully transfer the cut cookies to the prepared cookie sheet.
Bake them at 350 degrees for 6 minutes (the cookies will feel slightly soft to the touch).
Allow them to cool on the cookie sheets for 3 minutes before transferring them to a rack to cool completely.
Repeat the rolling and cutting-out procedure for the remaining cookie dough.
Store the cookies in an airtight container.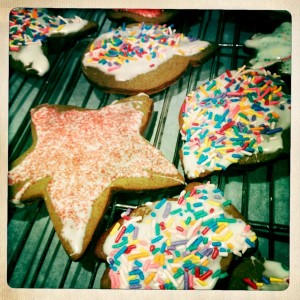 Good House Keeping Royal Frosting
2 cup(s) confectioners' sugar
2 tablespoon(s) meringue powder
3 tablespoon(s) water, plus additional as needed
Assorted food colorings (optional)
Directions
In bowl, with mixer at low-speed, beat confectioners' sugar, meringue powder, and water until blended. Scrape side of bowl with rubber spatula. Increase speed to medium; beat until soft peaks form, about 10 minutes. Icing should be stiff enough to hold its shape when piped. Thin with more water, if needed.
Tint icing with food colorings as desired; keep surface covered with plastic wrap to prevent drying out.