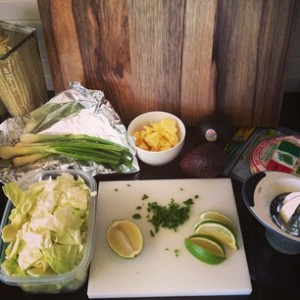 For a while we had a tradition of doing Taco Tuesday, with the effort to keep it up every Tuesday. Well, life gets busy and sometimes you don't always feel like prepping tacos. If you don't feel like eating tacos there is just something wrong with you BUT I can completely understand not feeling up for the prep part. While they're relatively simple to make, mind you, the chopping can take a bit of time depending on how glamourous you want your festivities to be.
While other ingredients come and go, there is ONE thing that is always requested for Taco Tuesday in our house, and that's my grilled cabbage slaw. I don't remember exactly how I though to grill the slaw that I'd made to go with tacos one fateful night but the point is I did and Taco Tuesday has never been the same. Grab some cabbage, a lime or two, handful of cilantro, some garlic and a Anaheim pepper or jalapeño and you're good to go!
Tonights Taco Tuesday: Grilled Ling Cod fish tacos with pineapple, grilled cabbage slaw, charred spring onions and corn.