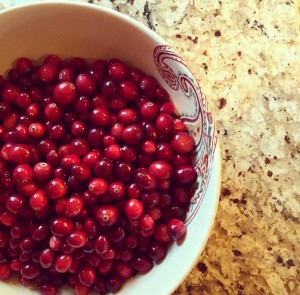 Thanksgiving isn't the same without cranberry sauce. We didn't grow up with a sacred family recipe but cranberry sauce was always served with the turkey and it was never from a can. It's just that one thing you can't do without, especially for leftovers, which I would argue, are almost as good as the main meal! My mum is actually a really amazing cook and is the queen of adding her own touch to recipes and making them a million times better. You can find my post using mum's recipe HERE.
I don't like overly sugary anything but cranberry sauce is one that can get sweet real quick. If you look at the ocean spray recipe, which is the base that everyone seems to use but some people like to add orange zest, currants, cinnamon, nutmeg or allspice as well. There are also many different ways that you can use up extra cranberry sauce if you have any, Besides freezing it, you can make cranberry muffins, use it as a compote on top of brie, make cranberry tarts, oatmeal bars, mix up some cranberry pancakes, add it to your yogurt in thee morning or even make a fruit salsa.
Cooking for Thanksgiving is one of my ultimate favorite cooking times of the entire year! We travel to visit family and usually don't have the ability to cook for 11 people and we love it! We wind up cooking the entire feast and even with double ovens, a 6 top gas range and not to boast but there is also a warming drawer to use, we are still tight on cooking space. We're cooking with the kiddies so I made a little update to mom's recipe and did without the Grand Marnier but I assure you, it's still completely delicious.
This is one of those dishes, along with stuffing and pies, that can be made ahead of time and is actually almost better when it's made ahead of time.
Cranberry Sauce
Prep & Cook time: 20 minutes
Yield:  2 1/4 cups
1/2 c sugar
1 c water (can be cut or completely replaced with orange juice)
4 c fresh cranberries (equal to one 12 oz package)
Rinse the cranberries and pick out/discard any damaged or bruised cranberries. In a tall soup pot, bring the water and sugar to a boil, stirring constantly to dissolve the sugar.
Add the cranberries to the pot and let them boil for a minute or two. Turn the head down and simmer for 10-12 minutes or until most of the cranberries have burst. You'll hear them pop, which is why the tall pot comes in handy.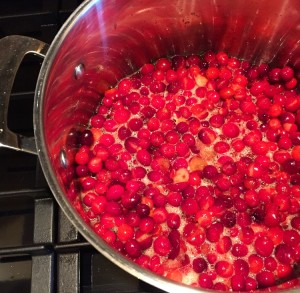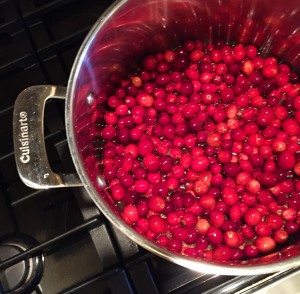 Remove the pot from heat and let it cool completely at room temperature. At this point the sauce is done and you can then transfer to a bowl to chill in the refrigerator. Note that the cranberry sauce will continue to thicken as it cools.
Some people like adding raisins or currants, or even blueberries for added sweetness. You can also add holiday spices such as cinnamon, nutmeg, or allspice.