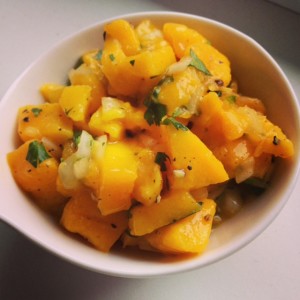 With the fresh feeling of spring, I trade my winter cravings of spaghetti squash and Ratatouille for the "fresh and light" fare. On Sunday I went over to our Ballard Farmers market and got the tastiest Carne Asada tacos I maybe have ever had! Seriously, I want to huddle in the corner and lick the plate they were THAT good!
Well, that of course challenged the cook in me that said, "Hey, can I make that!?" and off I was planning taco Monday/Tuesday/Wednesday and likely Quesadilla Thursday. Since the Carne Asada steak needed to marinate (that's for dinner tonight so check back for the recipe) I decided that tonight would be fish tacos.
Menu: Grilled halibut, Grilled Cabbage Slaw & Mango Salsa
Full Menu Prep time: 15 -20 minutes || Full Menu Cook time 20 minutes
This meal is actually pretty quick to make, it's really just the prep-time that takes little time investment. The Mango salsa and cabbage slaw can be prepared earlier in the day but only take about 15 minutes of cleaning and chopping. Cooking the fish takes about 12 minutes on a pre-heated grill and the cabbage slaw will cook up in a pan on the stove in about  18-20 minutes.  
Mango Salsa
3 Ripe Mangos, Peeled and cubed
1/2 Small White Onion
1/2 – 1 Jalapeño chile, minced (include ribs and seeds for a hotter taste if desired)
Fresh Cilantro, washed and chopped with stems removed
1 Fresh lime, juiced
Cracked Pepper to taste
Wash and prep ingredients then combine in large bowl. Cover and let sit in refrigerator for an hour or over night to let the flavors mix! If the salsa ends up being a little too hot or acidic for your taste, you can temper it by adding some diced avocado.