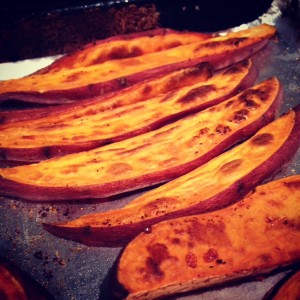 Believe it or not, I was a "garbage guts" when I was younger. My mother did a wonderful job of trying to get me to eat my veggies and not letting me leave the table until I'd consumed all my broccoli. But, if I had my wish I would have lived on chicken strips, fries dipped in BBQ or ranch, and any type of candy I could get my hands on. Oh, and a milkshake with LOTS of sprinkles. But no syrup drenched cherry, I did apparently have SOME culinary inclinations as a child. I think we can all agree that those are just gross!
My adult self shudders when I think of that "menu" and makes me want immediately consume a kale smoothie just in an attempt to balance out the years of chicken strip consumption! Even as adults we need a little comfort food. Pie, mashed potatoes, ice cream, onion rings, and, of course, french fries! Traditional french fries get a bad wrap for being…well…basically deep fried in oil which, let's just call a "spud" a spud and admit that they're is little to NO nutritional value of the potato left at that point. What if I told you that there was an alternative to "healify" fries and they were still delicious! So delicious, in fact, that I don't even DIP MINE or miss my trusty BBQ or ranch.
Yes, my fry friends, it's true! While you can do this with white potatoes, and add a little rosemary and garlic while you cook them, I prefer to do yam fries because I just simply like yams more. These are my go-to side dish when entertaining or just needing to add a carb to the meal. They're delicious and super simple to make! You can also get "fancy" and experiment with different spices. Post in the comments what you're favorite spices are!
Yam Fries
2 long skinny yams
EVOO
Smoked Paprika
Fresh Cracked Pepper
Preheat oven to 400 °F (200 °C). Depending on your oven, and how crispy you liked them, you can experiment with 450°F or even 500°F. Cover a baking sheet with non-stick foil and pre-heat the baking sheet (this helps to achieve crispier fries)
Wash and dry the yams, then cut them once lengthwise. Using a very sharp knife makes this easier. Place the halved yams face down on the cutting board, and cut in half again lengthwise and then slice the yams length wise in little strips to create the "fry" form.
Put the cut  fries in a large bowl, drizzle with olive oil, smoked paprika and cracked pepper and toss them until all the fries are covered. You can also brush the olive oil on the fries if you prefer, using a basting brush.
Lay the fries out in a single layer a baking sheet lined with non-stick foil and cook forThe SimplyRecipes.com recipe had a helpful note I'll try next time, one of their readers recommended laying them on a wire cooling rack on top of a baking sheet, so that the oven air circulates around the sweet potato pieces and you don't have to flip them over .

Bake for 15- 20 minutes until lightly browned on one side, then flip and bake for an additional 15-20 minutes until they reach the desired browned crispness you desire.