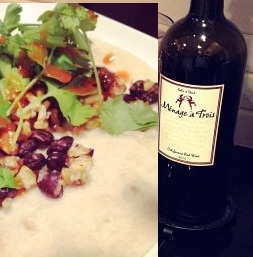 Taco Tuesday is a weekly tradition in our house. It's healthy, easy to make, and delicious! Taco's might be the ultimate meal, you can drink them with beer/wine/cocktail, are able to accommodate ANY  dietary restrictions!! They can be gluten-free, vegan, dairy-free, paleo, vegetarian, the list goes on!
I'm a FIRM believer that there is truly a good wine paring for ANY food! While taco's might not instinctively have you reaching for the wine glass and adding to the cork graveyard, I wanted to explore some tacos and wine's that others enjoy! So, I headed out to the blogoshpere and tweeted to enlist some help. Thanks to Menage a Trois Wines for posting on their Facebook page! (in case you missed it… I was last week's Facebook "superfan" and first ever twitter Superfan! and was quite excited about it! Check out the post here. )
Now… ON TO THE TACOS!!!!
Our most recent Taco Tuesday was Black bean & lime taco (recipe here)  with Menage a Trios table red wine. Of course, no taco would be complete in our house with out some grilled cabbage slaw. Simple, crunchy, incredibly flavorful and adds some extra veggie and spice to any taco! So delicious!
John Bell (Fashion Photographer, Seattle) Twitter Response:  @johnleebell "pulled pork with sour cream…. Just got an idea to add cream cheese!"
A few followers asked to remain anonymous but wanted to share their go-to's
"Grenache and halibut fish tacos and some shredded cabbage"
"I love a nicely chilled Gewürztraminer and some Spicy Chicken Tacos! Flour tortillas please!"
"Pinot Gris is very balanced and drinkable, pairs well with both fish and chicken tacos! You could even drink with a Carne Asada"
"A good full-bodied Merlot is GREAT with steak/beef tacos! Shredded beef, cheese, fresh avocado and tomato… melted cheese… mmm!"
"If you're doing beef, try a Zinfandel, Rioja or Malbec"
"ANY taco goes with a good Tempranillo! ENJOY!"
Menage a Trois Facebook Responses: 
Sherry Smith "slowed cooked pork with a sauce made of jalepenos garlic lime juice and cumin anchote once it is cooked i drain sauce and pull pork off and serve with warm flour tortillas and red onions and home-made salsa served with red wine"
Brenda Hudson Mcrae "fish tacos, with advacado salsa and sour cream"
Bobbijean Blackinton "I can not take credit for my favorite tacos .. but in the summer I love these taco's … so easy to triple or double depending on the summer gathering!!!http://www.patiodaddiobbq.com/2010/05/spicy-grilled-fish-tacos.html
Holly Le Du "I sautee finely chopped onions and raisins together for a couple of minutes, then add freshly ground beef with sea salt, pepper, chili powder, cumin, and a tiny bit of dried oregano. I put them in handmade tortillas (I prefer flour) with lettuce, tomatoes, cheddar cheese, and avocados and a homemade salsa. Sooo yummy!"
Tamasin Noyes "Mine is here, on my blog, and I would love to have it featured. Thanks in advance! http://www.veganappetite.com/2010/02/15-minute-chipotle-black-bean-tacos.html"
Spirited Shipper "Tacos are our favorite! We love tiger shrimp tacos with avocado, slaw, lime, and cilantro garlic sauce!"
Kim Smith Saghy "I think the Eagles Nest on Pier 39 in San Francisco has the absolute best fish tacos! And they will share their recipe."
What's YOUR favorite Taco and Wine mix!? I'll be happy to keep updating the post as more recipes come in!  Moral of the story… make tacos every tuesday and enjoy with some type of wine! 🙂 Life is better that way!