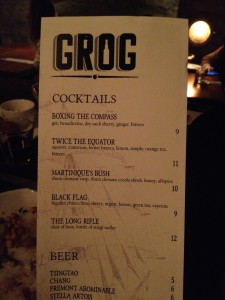 Grog
5410 Ballard Ave NW, Seattle, WA 98107
For the review we have The Long Version, and The Short Version. It's kind of like one of those pick your own adventure stories!
The Long Version
Last week, we were lucky enough to score a last minute invite to the private opening night if Grog. Ballard has long been my list of places I'd like to spend more time and explore. Not only is it home to my favorite Sunday market, but it seems that every time you sneeze or turn around, some new restaurant that threatens to be "the next big thing"  is popping up.
We almost didn't make the 9pm event cut off because we were touring around Ballard, observing how little parking there is as we looked for a spot. Now, let me stop and say this is a Fiat we were trying to park. Not some Goliath sized monstrosity of a mack truck. We'd already braved the wind and the rain. We'd braved leaving the comfortable walkability of Belltown. We had places to be, small plates to order and cocktails (yes, note the "s" at the end) that had my name written all over those lovely little frosted glasses. Come hell or high water, there was not turning back now for an issue as measly as not finding parking. I knew there was goodness awaiting us!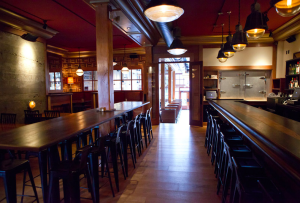 On to Grog! The place was packed when we walked in and it was a pleasure to see the assortment of people. How boring is it when you walk into a new establishment only to see a certain "type" of person, multiplied and filling the room. For me, if the drink and food menu pass the test, the next hurdle is the people that gather. Grog was a pleasant and welcoming mix of all styles, which not only made for fun people watching, but, made it feel like that kind of bar where nobody knows your name but your drinking family nonetheless. We secured two bar stools and moved our attention to the most important matter of the evening, what's on the menu!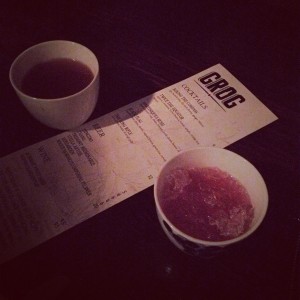 Round one. Little did we know at the time, but this was going to be a night of rounds. Yes, there's that little "s" for the plural once again!  But, isn't that the way all epic nights start out? He ordered a "Ben Nevis" cocktail and I went with the Dainty Canal. For food, we opted for the Spice Market Short Ribs and Julio's Citrus Salad to share. The salad was colorfully festive to look at while the lime, and grapefruit made it refreshing to eat. I was excited to try the "Rooster powder" and it added a nice slightly spicy sensation, as well as helping with the "colorful" part! The Short Rib was dressed with a tasty Chinese 5 spice and a peanut hoisin sauce which nicely complimented the little bit tougher cut of meat. Portion size was good and its plate presentation was lovely! As someone who likes the very buttery tender cuts, I'm glad I ordered the short ribs try but they weren't my favorite. Oh no, my favorite of the night is yet to come.
Joe, the "under the radar' mastermind behind Grub, was making the rounds and stopped to see how we were doing. It wasn't until he walked away and we got a tip from a near by cocktail sipper, that we found out Joe was the one who expertly envisioned and created this amazing little cocktail haven. From the Spice trade and sailor infused theme, to the local sources spices (from World Spice in Pike Place Market) and teas (Miro Tea just down the street in Ballard), attention to detail was the name of the game. The small touches of menu flare, from the bottle hiding in the "o" in the establishment name at the top of the menu, to the font and ever so subtle ship in the background brought the theme together. Event the selection and naming of the food and drinks added to the unique and nuanced nautical decor. This is defiantly a bar you want to drink at a handcrafted cocktail at.
Each of the menu items, both food and cocktails has a story behind the name. The Dainty Canal was a lovely way to start the evening. But, as I mentioned this was a night of rounds. We had been seated across from the right person for a good night and managed to befriend a certain "executive chef" (ahem- for the company behind that very nights debut) who expertly Sherpa-ed (yes, I'm using a tense of "Sherpa!) our food and cocktail experience to a WHOLE new level! Talk about drinking family treating you right!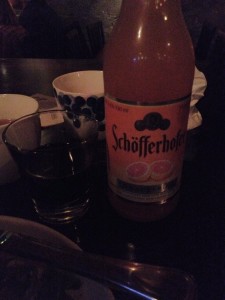 I snuck in a round two drink order of "The Long Rifle" (did I mention the nuance in the naming!) and instantly fell in love with grapefruit beer. That is a MUST order right there! My favorite however was not round 2 as I thought at the moment of my first sip of The Long Rifle. Round three was where the "favorites" began and we received two lovely martini glasses filled with the "Black Flag"- my favorite drink of the night. Coming from a mostly wine person who's not cocktail averse but simple cocktail uneducated, this little treat was a fast favorite for me! "I'm afraid to put my glass down because then my drink will be too far away"… that was my directly quote folks! Shortly after we started our love affair with our drinks, two delicious looking plates were placed in front of us. Now, when a chef befriends you and asked if he can order some food for you, you say "yes please". But, when a chef befriends you, asks if he can order for you and then get's that little "grin" and disappears, you better get outright excited! He had ordered us the Popcorn Chicken and the Sichuan Sandwich.
The Popcorn chicken had a perfectly crunchy but not battered and deep-fried crunch to it. You could smell the fish sauce before you saw the meal, but it worked with the other flavors of the dish very well. Served with sushi rice, this would have been a meal in itself!!
Now, cue drum roll for my favorite dish of the night: the Sichuan Sandwich. Soft, buttery and flavorful pork belly, Sichuan peppercorns and pickled vegetables on a simple and perfectly appropriate fluffy roll.  The seasoning, texture, and flavor were just off the charts. It looks like any other sandwich when you see it coming, but wait for that first bite! Oh MAN it was good! Pair that sandwich with a freshly mixed black flag and you're in for an amazing treat!
Just when we thought we had reached the edges of gastrosatisfaction, the donuts arrived. Yes, this already amazing bar serves donuts. These are not just any donuts, they taste like the best bite of a Cinnabon. Cinnamon spice toasted bites of oooey goooey heaven are served with an amazing cardamom vanilla pudding. Fresh donuts that melt in your mouth.. AND…dipping pudding? Be still my beating heart!
Needless to say, my heart beats for the moment I get to go back and re-live that first bite into the Sichuan sandwich washed down with a swig of a black flag. Now, THAT is good living folks!!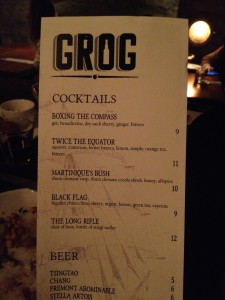 The Short Version
We fell in LOVE with
-Food:  The Sichuan pork sandwich: perfectly seasoned and cooked to crispy perfection. The soft unassuming toasted bun mixed with the pickled veggies and perfectly balanced mayo make this a new "go to" order
-Cocktail: The Black Flag- love at first sip!
Needs a little dialing in
-Popcorn chicken: loved the light crunch on the outside, but you do smell the fish oil before you see the dish, and the salt needs to be dialed back.
-Ribs: While the taste and presentation were great, it's a bit if an adventure to cut through that hunk o meat…and not something you'll want to tackle after a few rounds of drinks!
To summarize, I have a home bar that I Sad isn't stumbling distance but is completely worth the drive and parking adventure to go enjoy. If you know what's good for you, you'll be seen drinking and eating at this new Ballard hot spot.