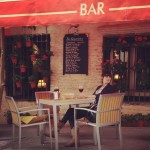 The obsession with Ratatouille started on our recent trip to Seville, Spain. We decided to meander the alleys and streets for the 30 minute walk from our flat to the city center . Bar Antigüedades caught my eye as an adorable little café from the exterior (of course…look at the photos!) and reading the menu board when we passed I made the mental note to come back for lunch. We did, and loved the Ratatouille SOOO much that we returned for dinner and had the exact same meal! It was so warm, hearty, tasty, flavorful and just… well… cozy! We ordered a bowl and cleaned and had I not ordered an actual meal I would have ordered another Ratatouille! As it was I had to refrain from licking the bowl since 1. it's rude to do in public 2. we were sitting outside and I couldn't sneak it 3. I'd be pegged as a ridiculous American for SURE! Three sadly legitimate reasons why I had to refrain from one last taste of the very miniscule remains of wonderful veggies. I vowed to make it once we got home.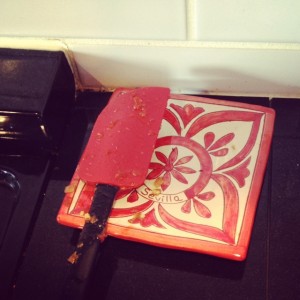 Of course, in order to make the dish I first had to find 15 recipes, make an entire Pintrest board devoted to my found ratatouille recipes (yes I'm that ridiculous organized..or maybe obsessive?). Of course I had to print out each recipe, lay them side by side, and pour over each minute difference and detail deciding which was the perfect recipe. Which was possibly closest to recreating the most incredibly wonderful cozy meal. My perfection was finally challenged by my need to make a grocery shopping trip and get ON with the actual MAKING of the dish so I picked one to use as a guideline because, and yes I'm a total girl, the picture looked the yummiest. The recipe that I landed on was posted on the blog A Lady in France.
A brief history of Ratatoulie. It is usually served as a side dish but can also be a main, which is how we eat it with some crusty potato bread. For protein, I usually poach an egg or sprinkle some cheese on the top.
The hardest part of this meal is letting it cook those last 30 minutes without devouring it from the pan! The house starts to smell of wonderful cooked vegetables and herbs.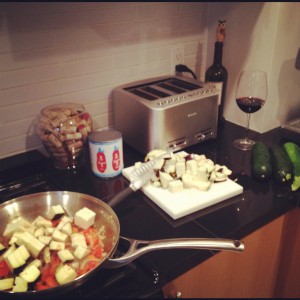 Tips:
The Pan: be sure to use a large deep pan so that the heat and evenly distribute and cook
Saute each round of veggies VERY well! Once you add the tomato it's really just melding of the flavors and not really "cooking"
Don't go light on the canned tomatoes! This is what makes or breaks the consistency of the Ratatouille. If it seems like the stew is a bit dry add another can of tomates or a 25 oz jar of basil marinera sauce. You'll realize the consistency within 5-8 minutes and you really need to add within the 5-8 minutes so the consistency and the flavors are able to meld correctly.
Cook all the veggies without a lid until you add the tomatoes. The veggies really need to breathe and have the heat to saute up.
Liquid: keep stirring to move the liquid around and assure that it's not too liquidy. If it feels like it's becoming more soupy than thicker stewey, turn the heat up and if it's sticking to the pan turn the head down a bit.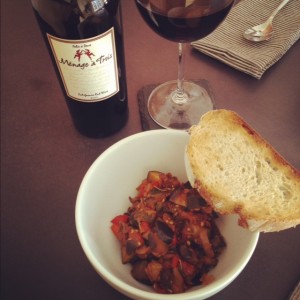 Cucina de Kate Ratatouille

½ large onion
2 tsp (heaping) minced garlic
drizzle of olive oil (to cook the onions/garlic)
1 red pepper, chopped
1 good sized eggplant, cut up in to chunks
4 small zucchini, cut up into chunks
1 ½ tbsp. herbs de province
few fresh basil leaf's
1 ½ c. diced canned tomatoes (I sometimes add a 25oz jar of 365 tomato basil marinera sauce)

Instructions
Heat oil in your large pan while you chop the onions and garlic. Cook until translucent.
Chop and add peppers. When they start to look a little cooked, chop and add the eggplant in medium chunks. I like them a bit larger so they retain some form as opposed to getting a bit more mushy when they're smaller.
Keep stirring the veggies in the pan until they eggplant starts to look a little cooked, then chop up and add the zucchini. Again, I liked keeping my chunks a bit larger to add to the stew-type texture and avoid a must consistency.
Once the zucchini starts to look like it's a little cooked, add the herbs and chopped basil and assure it's all mixed together well. Then add the tomatoes. At this point you'll have to keep an eye and stir frequently but you can multi-task and just remember to stir every few minutes.
Keep stirring and cook for another 30 minutes (or so) until all the vegies are tender…and of course taste along the way!
Serve with a protein (egg or meat) and some rustic bread (or omit if you're gluten-free)