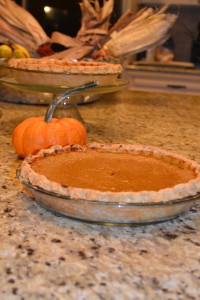 There is a special feeling of accomplishment and "arrival"reserved for the moment when you look at your LOVELY freshly baked pumpkin pie cooling on the rack,  knowing that you both roasted the pumpkins used in the pie AND made the crust from scratch. You "can" use the canned stuff, but roasting your own pumpkins just puts this already delicious recipe over the edge of deliciousness! Roasting pumpkins isn't as hard as you may think and it truly is worth the time for some AMAZING tasting pumpkin pie! You can find my simple recipe HERE.
I like to use organic local pumpkins whenever available. The nice thing about doing pumpkin pie, is that you can roast extra pumpkin and use it later in the week! I usually roast a pumpkin to make puree for the pie, and roast a pumpkin to roast in chunks to use with toasted quinoa and roasted chickpeas for dinner, or tossed in a salad.
Pumpkin Pie

Prep:15 mins |Cooking: 55 mins

Ingredients
3/4 cup granulated sugar
1 teaspoon ground cinnamon
1/2 teaspoon salt
1/2 teaspoon ground ginger
1/4 teaspoon ground cloves
2 large eggs
1  15 oz. canned Pumpkin or 1 3/4 cups pumpkin puree
1 12 fl. oz. can Evaporated Milk
1 unbaked 9-inch deep-dish pie shell (homemade recipe HERE)
Whipped cream (optional)

Directions
Mix sugar, cinnamon, salt, ginger and cloves in small bowl. Beat eggs in large bowl. Stir in pumpkin and sugar-spice mixture. Gradually stir in evaporated milk.
POUR into unbaked pie shell.
BAKE in preheated 425° F oven for 15 minutes.
Reduce temperature to 350° F; bake for 40 to 50 minutes or until knife inserted near center comes out clean.
Cool on wire rack for 2 hours.
RECIPE TIPS
Pie is done when center reaches 200°F. Tap center surface of pie lightly – it should spring back when done. For easy clean up, spray pie pan with cooking spray before placing pie crust in pan. If pie crust is over browning, cover edges with foil.
To use prepared frozen pie crust: Place cookie sheet in oven and pre-heat oven as directed. Pour filling into frozen crust and bake on preheated cookie sheet.
High Altitude Adjustments: Reduce sugar to 2/3 cup and increase butter to 3 tablespoons. Reduce oven temperature to 325°F.