What do you give the person who has everything? That person who can go out and buy anything they could possibly want or need? Lobster. That's right…LIVE lobster. Since we both love to cook, this was actually the perfect gift (thanks Mom and Dad)! I knew these little guys would be arriving…LIVE…so I was mentally preparing myself for a few days beforehand. All I could imagine was the scene from Julie and Julia where the lobster tries to jump OUT of the pot!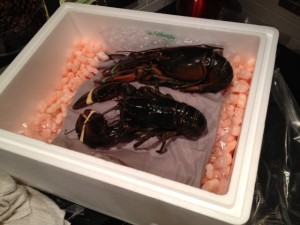 The LobsterGram arrived, and our two jumbo lobbies were all packed up for the overnight trip from Maine. Per the directions, which I CAREFULLY read twice, I left them be…that is…after I lifted up the packing to get a glance at those beauties! I will admit that some of the packing peanuts, which are lobster PINK for some awful reason, moved and I did shriek a bit thinking it was the lobster! We chose names for our little lobbies and I even gave one of them a little back rub to calm it down. Now mind you, this wasn't necessarily my idea since I was already the one tasked with dropping them headfirst into a pot of boiling water! But, my sous chef decided that one of them was moving a bit too much for his liking and that I needed to calm it down a little. Those pictures are not included :)!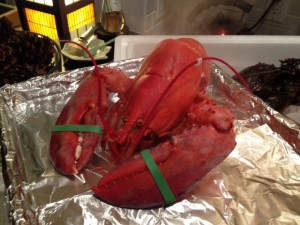 We followed the directions included in our care package. They can also be found online here: How to Boil a Lobster. The boiling process was actually pretty painless albeit a bit eventful (we kept having to push them back underwater!). We wound up using one pot since the water in the second pot didn't boil in time and they turned out just fine. One note on the pot; soak it VERY well when you are done or else you will permanently have a smelly lobster pot. We wound up boiling it on the stove with dawn dish soap for a few minutes and it vanquished the smell. Also, make sure you remember ahead of time to get the seafood utensils you'll need. (Thanks again Mom & Dad!!) I swear by Oxo products, so we were equipped with the Oxo Good Grips 5-Piece Seafood Cracker Set and OXO Good Grips Slim Nut/Seafood Cracker.
For the beverage selection, we opted for a wonderful Viognier from Windsor Cellars which we handpicked from our last trip down to that wonderful winery. If you are wine tasting in that area you MUST visit them! In all my wine tasting experience, this was the FIRST place I have ever wanted to purchase a CASE! Their Windsor Rare California Port, Private Reserve and 2009 Windsor Sonoma Winery Zinfandel, Dry Creek Valley were just amazing! Even their "table red" Sexy Bombshell was delicious!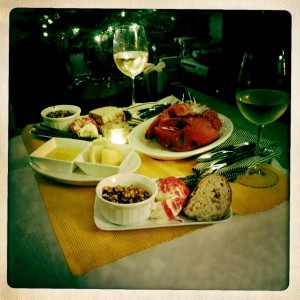 The Viognier was almost buttery on the tongue with citrus notes and finished with a balanced flavor and a light spice, great accompaniment to a dish like lobster! For the side dishes, we went the traditional route and opted for roasted corn, oven broiled asparagus and a fresh loaf of pain de champagne from the delicious and local Dahlia Bakery. Being dairy free I passed on the traditional "drawn butter" but made some for Brian and he wound up skipping it all together! The taste of the lobster was just delicious by itself with a little bit of the fresh lemon squeezed over the top.
I was actually surprised at how easy the whole process was! Simply get the other parts of the meal basically set up and then boil the water then enjoy! It was a wonderful treat and a fun adventure in cooking! If you like seafood stew, save the shells to make lobster stock for general use or if you retain the Lobster tail's to make bisque.
Have you cooked a lobster? Any tips or tricks… or experiences you like to share? Comment below!