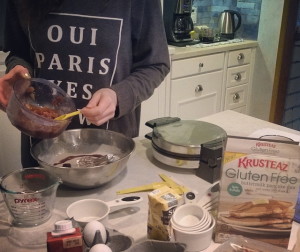 The folks over at Krusteaz asked me to be part of their "Krusteaz Blogger Bake-Off" to promote their new line of Gluten-free boxed mixes. They sent me two boxes each of their four new gluten-free mixes and all I had to do was create a brand new recipe that's never before been created. My reward, the joy and satisfaction of writing a new recipe and a chance at winning their grand prize of a Crate and Barrel Gift Card. Kitchen time, a great topic for a blog post, recipe writing… I'm IN! Just to keep you reading, this is the ultimate Thanksgiving leftovers recipe! Read on!
I took a few days to look over each of the boxes, researched the recipes that have already been created and submitted and then did what I usually do when I want to talk about recipes; I called my trusty recipe consultant (aka mum) and talked through a few ideas. I received two boxes of each mix below and there were two that caught my eye: the cornbread and the pancake mix. I went through a few recipe ideas and this one just came to me the day after Thanksgiving when I took a box of the pancake mix home to make brunch. We had two gluten-free guests so I figured what better time to test a gluten-free mix than with a full house AND a few gluten-free eaters sprinkled in! We took a poll and everyone preferred waffles to pancakes so we were off. I made three batches of waffles so we could test flavors and have some fun with the mix-ins.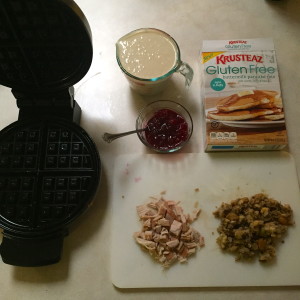 The first batch was just plain waffles with the mix. In the second batch I mixed in some fresh homemade apple sauce and the third was the crème de la crème: the gobble waffle. Now, before I get too far into the gobble waffle I wanted to talk about the plain and the apple sauce waffles for a minute.  We made the plain waffles so we could test the taste and texture of the mix. I'm happy to report that all four men fully approved! If I hadn't broadcast that they were gluten-free no one would have noticed! The plain one had a nice simple taste that was great with or without syrup. Delicious, tasty, crunchy on the outside and everything a waffle should be. The batch that had the homemade apple sauce added into the batter beat out the plain waffles by a landslide. The flavor of the cinnamon and pureed apples were a perfect addition to the tasty batter and were just amazing. It had the taste of white cake batter! But, this was all before the gobble!
What is the gobble waffle you might ask? Well, the gobble waffle is the ultimate Thanksgiving day left-overs brunch recipe. It combines a box of the tasty, simple, pantry-ready Krusteaz Gluten-Free Buttermilk Pancake Mix with some left over turkey, gluten-free stuffing and a bit of gravy and/or cranberry sauce in place of syrup. Just when you thought that left-overs couldn't get any better, you discover something like the Gobble Waffle. It's crunchy, tasty, thanksgiving goodness all in one brunchy bite.  My mum has used the Krusteaz pancake mix for YEARS but I have to admit that I was a little  skeptical about the gluten-free mix. They just have that association of being not quite "there" for taste and texture but both the cornbread and the pancake mix blew my socks off! My gluten-free waffles were specifically requested for Christmas leftover brunch so you know they're good! Thanks for being my secret weapon Krusteaz!
You can click THIS link to learn more about the mixes, find recipes and a retailer near you. I'll be stocking this amazing, tasty gluten-free mix in the pantry for SURE!
*Krusteaz Gluten-Free GIVEAWAY*
Krusteaz has agreed to partner on a giveaway! Stay tuned this week for details!!!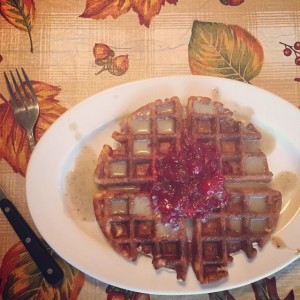 Gluten- Free Gobble Waffle
Prep time:  5 minutes  | Total Bake/Cook time: 10 minutes
Servings:  6-8 people    |Level of difficulty: easy
Ingredients
1 box of Krusteaz Gluten-Free Buttermilk Pancake Mix
2 cups cold water
2/3 cup almond milk
1 1/2 tbsp oil
4 egg whites
Leftover turkey
Leftover Gluten-free stuffing ( Recipe here using Krusteaz Gluten-Free Cornbread Mix)
Gluten-Free Gravy or cranberry sauce to use in place of syrup if desired
Directions
Get out your waffle iron and pre-heat it. Pour the dry mix into a bowl and mix in the cold water, almond milk, oil and egg whites. Break up the turkey into small pieces and add into the waffle mix. Add the left over gluten-free cornbread stuffing and mix. Pour onto pre-heated waffle iron and cook until golden brown.
Serve with heated gluten-free gravy or cranberry sauce!