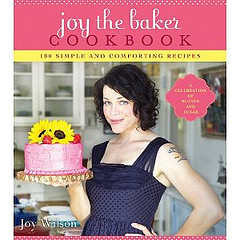 I was SO excited to see that she was had on her calendar not one or two but THREE book signing's in Seattle! How special are WE! Reading Joy blog feels like sitting down to coffee or opening open a bottle of wine and ruffling some delicious creation in the kitchen with a good friend. You'll immediately be endeared to her fun-loving realism (Can't we just say medium at Starbucks!?) and have the urge to take a bite out of every one of her photos. With the inspiration of cooking parents, Joy developed her baking skills with the most esteemed tasting committee a baker can have, their own taste buds and those of friends. Joy the Baker has been around since 2008 and is now producing her FIRST cookbook (Congrats!!), Joy the Baker Cookbook: 100 Simple and Comforting Recipes.
Any food blog whose Recipe" list starts with Booze is okay by me! And let's be real… this excerpt from her latest post, "Coffee and Bacon Sandwiches" talking about the motivation and inspiration for her cookbook just proves that recipe addicted, food photographing, culinary bloggers are cut from the same thread:
"I know you eat popcorn for dinner.  I know you bake brownies for boys.  I know you're just looking for an excuse to make biscuits for every meal of the day…. and I love you I love you I love you!!!"
Well, my version of popcorn was gourmet nacho's with rice cheese BUT I was that girl, okay okay…and still am, that bakes the corresponding cookie for each holiday. I'm the girl who dreams of recipes in her sleep and finds every excuse to throw a dinner party. Bake Popovers is the first item on my  to do list and yes, I spend hours on Pintrest looking at food pictures and plotting about what I can cook for the next meal.  But Joy, we love you too!!!Can't WAIT to get the book, have her sign it, and meet the woman behind one of my favorite blogs! Where do I add the count-down ticker until book signing day! There's an app for that right?
Joy the Baker Cookbook: 100 Simple and Comforting Recipes View Product on Amazon.com