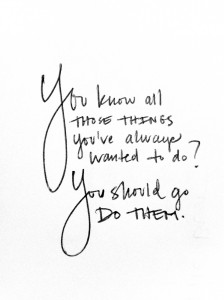 I love weekends! Two WHOLE days to do whatever you want…or as is usually the case…NEED to do. That pile of laundry, sorting mail and paying bills, house cleaning and fixing, organizing then all of the sudden it's last sunday night and you didn't even get a weekend! Well, thankfully that is not the case this weekend. I woke up this morning with NOTHING on the list! I didn't even have a breakfast order from the ever hungry roomie!
N O T H I N G     T O   D O!
Well, I should say nothing that I "HAD" to do which always takes the fun out of it. Being the creative minded person that I am means that naturally I have a bunch of ideas stewing around in my head and wish I had 5 life times to complete. One of the wonderful things is that I CAN do them!
I LOVE today's inspiration photo. It's so simple and attainable. If you really want something, you should go get it. Have grace with yourself along the process. You might not have EVERYTHING you ever wanted immediately, but choose what you want to do and mindfully take action to achieve it. You'll get there!!!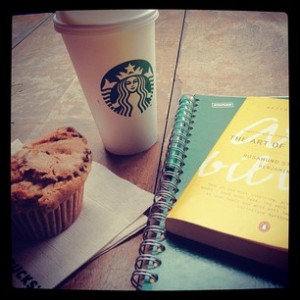 And just because I'm SURE you were dying to see what my breakfast looked like 🙂