I LOVE gingerbread.
Okay… that's a slight understatement. I'm obsessed with it!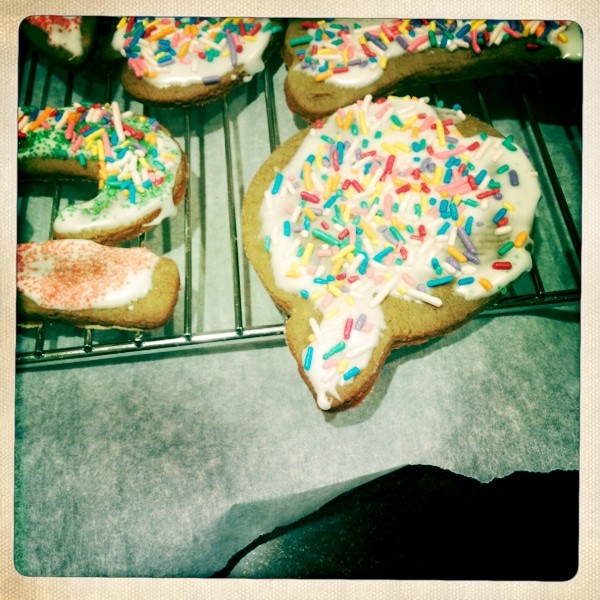 Seriously! Its true!
Hi, I'm Kate and I have a gingerbread addiction! I think about it, want it, and crave it as much as an addict would their drug of choice! It would be ridiculous if I heard anyone else explain to me like I am to you, how much they love gingerbread.
Everyone has their vices, and while I have a few year-round vices, my holiday "drug of choice" is gingerbread. SO, to celebrate my deep love affair with this delicious little cookie I'm throwing a party. I've rounded up some of the gang that enjoy gingerbread (or could it be the wine and champagne I also promised would be flowing?) to come celebrate this wonderful blessing to all mankind that is the gingerbread cookie.
So I'll be using both my tried and true Gingerbread Cookie recipe and my  gluten-free gingerbread cookie . Now, you might turn up your little nose and say.. "ewwww! What's the point of eating a gluten-free cookie! Is it even a COOKIE still!?" Well, I'll have you know I snuck a batch into my Gingerbread party last year and no-one had ANY idea! They're delicious!! So, I'm looking forward to baking up a large batch of gingerbread men, women, dog bones, stars, trees… well you get the picture and decorating for the party!
To help gather some decor inspiration, I started a Gingerbread Party Pinterest Board . So far, I'm thinking about kicking it old school and making paper snowflakes to hang from the ceiling with red ribbon.
I also want to pick up a few of the trimmed Christmas tree branches from my fruit stand boys at Corner Produce down at Pike Place (where we got our tree this year!) and decorating the table with some variation of this lovely idea using pine cones, candles and branches in glass jar! (pictured at left).
When I saw the package of Kikkerland Biodegradable Red and White Striped Paper Straws, I grabbed the package because our little house simply NEEEEEEDED an adorable package of straws! So, I'll be putting these out in a mason jar…which is a little silly because we'll be serving one of my favorite "go-to" wineries, Folie A Deux Menage A Trois in both the  Table Red (I call it the gateway red!) and Table White. A party can't be complete without some bubbly so we'll also have that! To remember who's wine glass is who's, I'll get some various ribbons and tie them to the stems and also have another scrap that you can tie to your wrist or pin so for a fun party game of remembering which glass is yours!
Now that the party is planned, gingerbread must be baked and decorations gathered and put out! Tune in this weekend for an updated post with pictures from the party! And, YES,  I WILL be eating gingerbread while I type that post…and everyday for the next two weeks!!