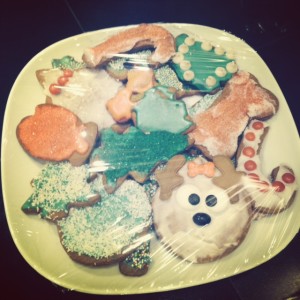 Last year I posted my recipe for gluten-free gingerbread cookies. This year, we get the good old-fashioned gluten goodness version! Any of you that had a flash back to Will and Grace, and remembered Grace's "Good Old Fashioned" parties… you just earned an extra gingerbread cookie for being amazing! I LOVE Christmas time. I love the cheer, bundling up with mittens and scarves, waterproofing my boots and pulling out the long jackets, that first red Starbucks Holiday cup, the smell of Christmas trees, and the ever-present smell of amazing baked goods. During the holidays, we can endure much stress. Between hosting, cleaning, shopping, decorating, hosting again, attending, participating, family, guests, New Year New You, drinking, and the ever-present baked treats…we seem to endure quite a bit of bodily and mental stress during the 8 weeks between pre-Thanksgiving to post New Years Resolutions. We need extra care, rest, and vitamins during this time.
Lucky for you, I know exactly the remedy for holiday stress. My dad was always so good about taking is vitamins. My mother would call from the living room, "And WHAT are YOU getting into!".  To which my father , who, inevitably at that point would have one hand elbow deep in the cookie jar, would reply, "Oh, just taking my vitamins darling" then he'd wink at me and take a bite of the first of TWO successfully pilfered cookies. To this day, I can't look at a cookie without first thinking of the word, "VITAMIN!". So, during these potentially stressful times, we need to be sure to take our vitamins and my vitamin of choice are gingerbread cookies. Each year, I do a holiday party where I bake a ridiculous amount of gingerbread, fashion them into little men, women, dog bones, Christmas trees and a multitude of other shapes and invite 20 of my closest friends over to decorate them. Little, do they know… and some of them read this blog so my secret is out now… but I somehow always thankfully end up with about 4 plates of extra cookies! Some people might pull the "oh I wish it wasn't in the house" card and, on other sweets I might say the same. But NOT for gingerbread cookies.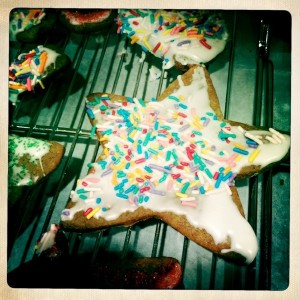 These are my vitamins! I literally eat a gingerbread cookie most days annually between December-February. THis is one way to beat the holiday stress, make sure to take your vitamins each day! If gingerbread is also your "vitamin" of choice, I'll give you a life tip, they're equally as good with coffee in the morning as they are with a glass of good red wine in the evening! Second (shameless plug ahead) is to read my article that was originally posted on LevoLeague.com and picked up by the Huffington Post; Holiday Stress 7 Ways to Ditch the Worry.  Now, my fine feathered friends, you are ready for the holiday season! Stock up on the red wine and bubbly, practice your 7 holiday stress tips and eat your "vitamins" daily!!
Gingerbread Cookies
Ingredients
2 1/2 cups  flour
1 1/2 tsp double-acting baking powder
1/2 tsp baking soda
1 tsp ginger
1 tsp ground cloves
1/2 tsp nutmeg
1/2 tsp salt
1/2 cup sugar
1/2 cup shortening
1/2 cup light molasses
1 egg
Ornamental Cookie Frosting (also listed in this post below)
In a small bowl, stir together the flour, baking powder, baking soda, ginger, cloves, nutmeg, and salt and set aside.
In a medium bowl, place the remaining ingredients, and stir to combine.
Add the dry ingredients to the wet ingredients and stir well to combine.
Cover the bowl, place it in the refrigerator, and chill the dough for 1 hour or more.
Lightly oil (or mist with olive oil in a Misto Sprayer) two non-stick cookie sheets and set aside.
Sprinkle a little flour over a work surface where you can roll out the cookies.
Divide the chilled dough into quarters, work with only one-quarter of the dough at a time, and keep the remaining dough covered and chilled until needed.
Working in batches, roll out the quarter of dough to 1/4-inch thickness, and cut into desired shapes with cookie cutters.
Carefully transfer the cut cookies to the prepared cookie sheet and bake at 350 degrees.
For softer cookies: bake 6 minutes (the cookies will feel slightly soft to the touch) and allow them to cool on the baking sheet 2-3 minutes before transferring them to the cooling rack.
For crispier cookies: bake 9-10 minutes and transfer to cooling rack right away. We prefer the crispy cookies!
Repeat the rolling and cutting-out procedure for the remaining cookie dough.
Store the cookies in an airtight container for up to a week.
Ornamental Cookie Frosting
from: Good Housekeeping Cookbook
1 1/4 c confectioners sugar (or powdered sugar)
1/8 tsp cream of tartar
1 egg white
Just before using, pull out your kitchen aid standing mixer or hand mixer and a bowl. Mix the sugar and cream of tartar together. Add the egg white and mix at high-speed until it's so stiff that a knife drawn through leaves a clean path.
Divide into small bowls and add your food coloring. Use directly from the bowls or you can place into pastry bags or grab a freezer style ziplock bag and cut one side of the bag.