Well, after what seems like weeks away, endless airports, taxis and train, we're finally home from our two weeks of gallivanting around Spain! The house is buried under piles of laundry to be done, the camera is glaring at me with thousands of pictures to sort and days of e-mail to catch up on, we're home! I've posted a quick preliminary write-up on our two weeks in Spain which you can read here.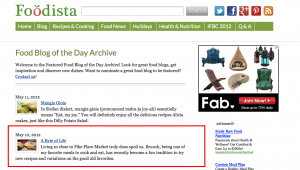 BUT, the point of this particular post is to announce that A Byte of Life was featured as the Blog of the Day over at Foodista last Thursday! I didn't have time to write a post in time since that was our 20 hour travel day home but I was HONORED to be included as a featured blog! Foodista is great for recipes, pictures, community and inspiration! You can also follow them on Facebook.
View the Foodista feature post here (its real time so you might have to scroll down to see the post).  They chose to feature "Seafood Breakfast for Dinner: Potato Parsnip Pancakes with Shaved Crab, Poached Eggs and Breakfast Cocktail Sauce".
Thanks Foodista!! It's an HONOR!!!