What do you get when you mix sunshine, grilled amazing food, a nice cold beer or chilled wine and a rooftop? A VERY happy lady! Grilling is one of my favorite ways to cook food. Growing up in California, my family is accustomed to grilling in any type of weather. Neither wind nor rain nor inches of snow can keep us from firing up the grill!
One of my favorite things to grill is corn on the cob. But, there are so many other great ways to enjoy corn! For example, Elote! We first experienced Elote on our trip to Sedona this past spring. The winter in Seattle was starting to chill the bones a bit too much so off to warm up with sun and family! Elote is the namesake dish of a wonderful Spanish restaurant and it is a dip which is made of fire roasted corn and spicy mayo and is traditionally garnished with lime and Cotija cheese.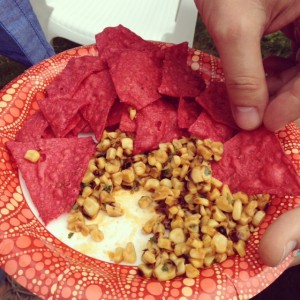 We took home the Elote restaurant cookbook as a birthday present, which included the restaurant's recipe (posted here), and couldn't wait to get home and make it ourselves. As you may know, I view recipes a general taste and texture guidelines. I love to tinker with recipes and personalize them. The dish at the restaurant had a very creamy consistency and was heavy on the mayo. I don't like the super creamy aspect and neither of us really like mayo so we tinkered around and came up with the recipe below. Just took it to a birthday BBQ and it was a hit!
We grill our corn to make the Elote which gives it a wonderful charred flavor but you can also use canned corn and pan roast it for a few minutes until it starts to brown. I bet you could also bake it up in the oven…I'll give that a try once fresh corn is out of season and see how that works out.
To test, we started with one ear of corn to play with the flavors and personalize then for the bbq we grilled up 6 ears of corn and it was a great amount for a side dish. The recipe below is for one ear of corn so you can multiply as needed for how many servings you desire.
Sommer Style Elote
Serves 1-2
1/2 tsp chicken stock + 2  cups water
1 small packet mayo
1 tbsp. Cholula hot sauce
1/2 lime, juiced
Salt & Cracked pepper
¼ c fresh chopped cilantro
dashes of: fresh cracked salt and pepper, cayenne, paprika, garlic
1 ear char grilled corn
Sliced Emmental cheese (the original recipe calls for cotija but we aren't really fond of it)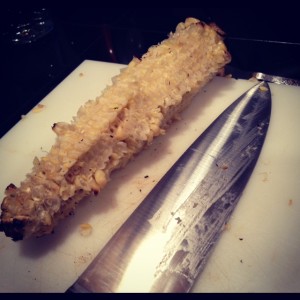 For the Corn
Soak the corn for 20 minutes in salt water to brine. Then, cook the corn in aluminum foil in the oven to cook at 400degrees for 20 minutes then finish on the grill. Set the corn aside to cool, then cut the kernels off the cobs.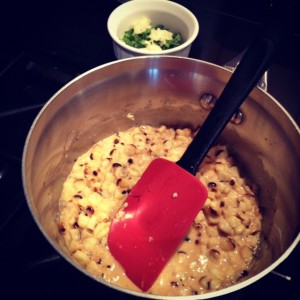 Making the Elote
Mix the chicken stock, mayo, hot sauce, lime juice, salt and pepper, sugar and chicken stock in a sauté pan over medium heat. Once that's all mixed up, add the corn kernels and stir until the corn is warmed and the water boils off. Add the sliced cheese and mix until melted then mix in the chopped cilantro and keep on the heat for a minute or two longer. Garnish with fresh cilantro and a dash of chile and serve with tortilla chips. We found that the red or blue tortilla chips were quite delicious and looked so festive! Food should always be fun!