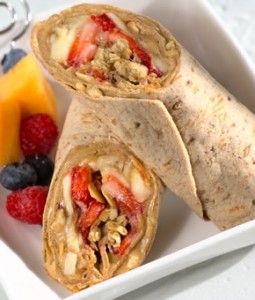 Getting up when it's still dark out is a lot less appealing than hitting the snooze button and curling back into that warm spot under the covers.  Once I finally roll out of bed and throw some make up on, I barely have enough time to do breakfast and opt for the go to meal: protein (Greek Yogurt or Cottage Cheese) + Carb (usually honey toast or English muffin) +whatever fruit is in the fridge. But I also get bored eating the same thing every morning so it was time to mix it up, but still get my precious snooze time!
Enter the breakfast wrap! I build my wraps with the same breakfast criteria: protein +Carb + fruit. I love doing wraps to clean out the fridge because you can you can build all kinds of different tasty breakfasts out of leftovers in the fridge, wrap them up in a convenient easy to manage wrap and you're ready to go!
One of the fun parts about doing wraps for breakfast is that you get a chance to start the day off with some veggies as well! This is one of my favorite in the "quick and easy breakfast" category and an excellent way to use up tortillas after Taco Tuesday. It is also a great way to clean out the fridge before going out-of-town for the Holidays.
Building Your Wrap
1. Choose your Protein: eggs, cheese, bacon/turkey bacon, sausage, cheese, beans (black/navy/garbanzo), cottage cheese, Greek yogurt, humus, nut butter
2. Add a Carb: tortilla, flat-out wrap, pita pocket, pita bread, lavash wrap
3. Add Fruit, or in the case of a wrap Veggies and other delicious ingredients!
A few ideas:
Mediterranean: Kalamata olives, Roma Tomatoes, Spinach, Avocado, Feta cheese, Pesto, Humus, Basil or Rosemary, Roasted Peppers
Thanksgiving Leftovers: Cranberry sauce, Stuffing, Mashed Potatoes, Sweet Potato, Grilled Veggies
Mexi: Black Beans, Hot Sauce, Salsa, Avocado, Cheese, Cilantro, Peppers, Spinach
Cottage Cheese, Banana, Granola, Pineapple, Whole Wheat Wrap
Greek Yogurt, Berries, Wheat Germ
Peanut/Almond Butter + Honey or Fruit (Banana, Pear, Blueberry, Strawberry, Apple)- and a few chocolate chips doesn't hurt!
Check out other quick and easy breakfast ideas on my Pinterest Board Breakfast on the GO