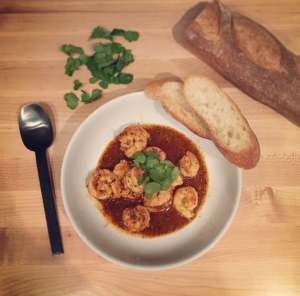 Whether you like to cook or not, this is one of the most amazing, easy dishes you will ever learn to make.  It is SO simple and SO delicious that it's almost absurd how easy it is. You can serve these amazing little shrimp as an appetizer or a cocktail party, tossed with pasta , served as an entree with a lovely caesar salad or roasted vegetables, mixed with toasted quinoa or jasmine rice…there are so many options! They pack a spicy, fresh, crisp, earthy, tasty punch all in one single bite of tasty, amazing shrimpy goodness.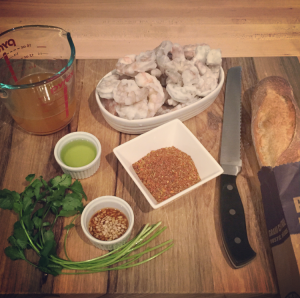 Let's set the stage here. I LOVE seafood. One of many amazing perks of living in Seattle is the abundance of fresh, local seafood. Having a local variety so readily available I sometimes forget that everyone doesn't have access to this fresh fare. Some people go through different food phases where their food world, or certain meals, can revolve around one ingredient. For a long time, that one ingredient for me was shrimp. I learned so many different ways to quick cook and consume shrimp but I didn't look into where that shrimp was from and assumed that purchasing from Whole Foods meant that it was safe. While that might be true, I MUCH prefer to purchase organic and domestic and/or local version whenever possible. My friends over at AmericanShrimp.com asked me if I would be interested in writing a blog post that would feature American wild-caught shrimp and I jumped at the opportunity because I new exactly the recipe I wanted to try.
There is a local, renowned steak house in Seattle that has a seafood restaurant as well and they have something they call "Wicked Shrimp". It is one of my favorite dishes in the entire city- a bowl of shrimp, perfectly sautéed with amazing herbs and spices that deliver both flavor and a spicy punch, with a nice helping of fresh cilantro on top and a side of toasted delicious bread. I had been dying to replicate this dish at home but never had the motivation, until now! As soon as I knew that fresh American wild-caught shrimp was on it's way I knew that I had to try to make my own version of this amazing dish. Below is my take, and it was an immediate hit!
Spiced Cilantro Wild-Caught Shrimp
Spice Mix
1 tsp Cayenne Pepper
Black Pepper and Salt to taste
1 1/2 tsp Crushed Red Pepper
1 tsp Whole dried thyme
3 tsp Dried Crushed Rosemary
1/4 tsp Dried Oregano
Cilantro Shrimp Ingredients
1 lb. American wild-caught shrimp– size 21/30
2oz Grapeseed Oil
1 1/2 tsp. minced garlic
1 1/2 tsp. Worcestershire
1 1/3 Tbs. Spice Mix
1/2 c Fish Stock
1/4 c. Beer Grilled Tuscan Bread Slices
Cilantro (for garnish)
Directions
Make the spice mix. This can also be sprinkled onto chicken and/or meat, eggs, mixed into salad dressing.
Heat the grapeseed oil in a medium sized pan on med-high heat. Add Wild American Shrimp and sauté for 2 minutes, or until the shrimp color has changed to a white and pink color.
Flip Prawns and stir in the garlic, Worcestershire and spice mix. Once you start to see the liquid caramelize, add the beer and  fish stock and cook for two more 2 minutes. Serve in a bowl or on a platter with grilled bread slices, on toothpicks as an appetizer or tossed with toasted quinoa or with pasta.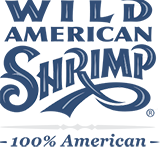 Thanks to the American Shrimp Processors Association for sponsoring my writing! When making the decision to cook with shrimp, be sure to check the sourcing. Shrimp purchased in a retailer should proudly state "wild-caught" or "Wild American Shrimp." For a list of retailers, please visit www.americanshrimp.com.