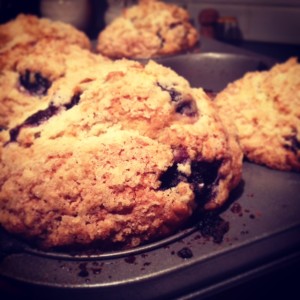 "I taste… baked goods, and a bit of cream. Crispy warm blueberry notes at the start and a soft lingering finish. A hit of cinnamon. Nice tannins. Pairs well with fruit" he said as he finished his bite and pops a half strawberry in his mouth with a smile.
This is the verdict from the master muffin taster (and wise guy!) himself on this mornings baking experiment. I couldn't sleep last night so early this morning I decided to throw in the towel and let the day start. Apparently my body wanted to see what it was like to live a day in the life of a true baker: up at the crack of dawn in the kitchen among the aromas of creamed butter and cinnamon baking into fresh morning goodness for those lucky enough to sleep until a decent hour of the morning.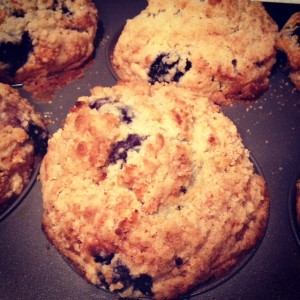 The mister has been asking me for months to make blueberry streusel muffins and this was the week. It was even on my calendar with a few recipes that I'd "Pinned" on my Pinterest Muffin Board. Yep, I'm that obsessive planner that I actually schedule making muffins in my calendar.
One thing that I think everyone can agree on is that the muffin top is THE BEST PART of the muffin. Right? Okay, if you answered "No, I think the bottom is actually tastier" you can just stop reading now because that's ridiculous! I've been researching how to make the nice big crispy muffin tops and tried on this recipe. (More attempts in future blog posts!). I'm learning that it's a mixture of batter consistency and HIGH heat. For this attempt I used some tips form the blog Meat Free for Three from her "Perfecting the Muffin Top" post. She uses a banana batter and I wanted blueberry muffins so I used a muffin and Streusel recipe from A Taste of Home and have a few personalized notes now that we've made the first batch.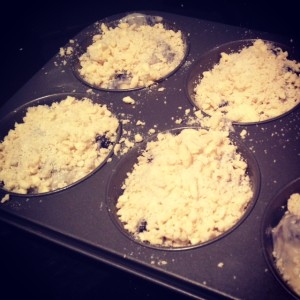 I made a few alterations to the recipe below after the final muffin tasting was complete and I had the tasting notes back from the judge. The muffin tops were crispy and billowy and I hoped they would be! The larger tray turned out just fine for baking the interior and not burning the top which I was a little worried about. The batter might be a little too thick for the muffin top to get super large on the larger 6 muffins so maybe I'll see if the results are different when using a 12 muffin tray. The consistency of the muffin and it's flavor were nice but a little too sweet for us so I'll cut the white sugar and use brown sugar and honey next time. Also, we like oats in our muffins so I might try substituting 1 cup old fashioned oats for 1 cup of the flour.
Please leave comments below on your favorite muffin techniques or any tips you have for "the perfect muffin top", streusel recipes or bran Morning Glory muffin recipes. Yes, I realize that the Bran Morning glory muffin request came a little out of left field but those are MY two favorite muffins and I'm still on the search for a great recipe that combines them both!
Bon Appetit!
Blueberry Streusel Muffins
Makes 12 regular or 6 large muffins 
Ingredients
1/4 cup butter, softened
1/3 cup sugar  honey
1 egg
1 teaspoon vanilla extract
2-1/3 cups all-purpose flour
4 teaspoons baking powder
1/2 teaspoon salt
1 cup milk
1 cup fresh or frozen blueberries
Note: If using frozen blueberries, use without thawing to avoid discoloring the batter.
Streusel:
1/2 cup sugar  1/4 cup brown sugar
2 tbsp 1/3 cup all-purpose flour
dash of ground cinnamon
2-3 tbsp cold butter, sliced
Directions
Pre-heat Oven to 500 degrees (don't worry, you won't be cooking them at this temp! This is just to get the oven super hot for the muffin tops!) and either grease your muffin pan or insert the muffin liners
In a large bowl, cream butter and sugar together. Beat in egg and vanilla and mix well
In a separate bowl, combine the flour, baking powder and salt
Alternate adding the flour mixture and the 1 cup of milk to the to creamed mixture making sure you mix well but don't over work
Fold in blueberries
Turn the oven down to 400 degrees
Fill prepared muffin tray 2/3 full
Make the  streusel in a small  by combining the sugar, flour and cinnamon then cut in butter until crumbly then sprinkle over muffins
Bake at 400° for 30-35 minutes or until tops are browned and a toothpick inserted to the center of the muffin comes out clean
Cool for 5 minutes before removing to a wire rack